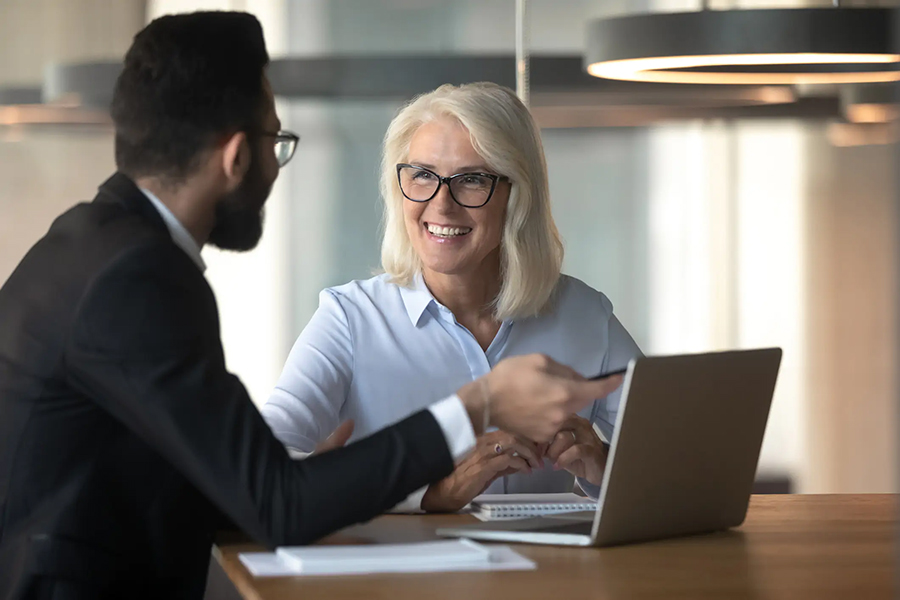 You can never really predict when someone may leave your company. They may find another opportunity elsewhere, they may decide to move out of the country or take an opportunity better suited for them. But when you have team members that are getting close to the retirement age, you may be wondering what their plans are. It can be difficult to get this conversation started – you do not want to offend anyone, or worse, say something that could be construed as age discrimination. Fortunately, by keeping lines of communication open, and by staying positive and honest, you can address this subject without issue.
Discussing retirement with employees
Asking your employee when they plan to retire does not need to be a negative conversation. In fact, retirement is positive!
There are many reasons an employer would need to know an approximate time frame of when an employee is going to retire – namely, for succession planning purposes. If you have forewarning that your employee plans to retire in, say, 3 years, you can create a plan so that you're not left in the lurch when they leave. Ideally, the employee will be agreeable to this and can help you strategize a way for them to pass down their knowledge, consider who internally may be able to take their place, or think about hiring and training a new candidate if necessary. Their input will be extremely useful in making sure that you don't lose out on years of knowledge and experience when your employee retires.
You should also go into the discussion with an open mind. Retirement isn't like it used to be, where the majority of workers stopped working immediately when they turned 65. Some people may want to reduce their hours rather than not working at all. This could be helpful to you. If your employee works part-time hours, they can be on-hand to train the person who replaces them, and they are still available if you have questions. A worker who has been with your company for a long time may know answers to questions that newer employees don't – for example, why a decision was made, what the process was before that decision, and other obscure information that may have been lost to time. These can be important insights, and you don't want to lose them. If your employee reduces their hours and works slowly toward a full retirement, you will have more time to document information like this.
Another topic that may be helpful to discuss is retirement planning. If your company has a 401(k) plan, especially if you match contributions, be sure to inform your employees about the details and encourage them to participate. You should let team members know that they should begin contributing as soon as they are eligible. Additionally, you may want to provide access to financial planning. There are many financial wellness tools that you can provide for your employees that can help them with this, PrestigePEO offers FinFit to clients, which provides everything from college savings plans, how to save and where to limit spending, as well as financial counseling available over the phone at any time, and at no additional cost. By providing your employees with tools to help them save for their future, you make retirement attainable and less intimidating.
How to avoid age discrimination when discussing retirement
When discussing retirement with an older employee, you need to be very careful about how you approach the conversation and the language you use. It is perfectly fine to inquire about retirement plans with an older employee and it is well within your rights as an employer. You can't force them to retire, however, and if the employee reacts negatively to the conversation, you should drop it immediately. It's recommended to seek professional advice to help you plan how to have this conversation. For our clients, we encourage you to reach out to your HRBP for advice. We can give you talking points, language to use, things to avoid, as well as legal advice if you have concerns.
One way to avoid singling anyone out, and therefore avoiding age discrimination altogether, is to hold meetings with all employees individually. You can discuss career development and that conversation will look different for everyone. A younger employee may want to discuss advancement opportunities, and an older employee may feel more comfortable discussing their plans to wind down their career. Career development and growth are crucial to any employee, so these meetings are a good idea to host regardless of whether you plan to discuss retirement with one or more individuals.
Understanding federal law when it comes to retirement
It's important to plan carefully before you bring up retirement with an employee, so you should know applicable local and federal laws regarding this topic. When you become a client of PrestigePEO, we are more than happy to assist you with these conversations and other challenging topics. We have a team of experts that you can rely on to inform you of any legal issues you should be aware of, and we'll make sure you are fully prepared. The reason why you need to prepare is that it is illegal to force an employee to retire because of their age. In 2018, an oral surgery practice in Michigan had to pay a $47,000 settlement to an employee who was fired four days after her 65th birthday. The practice had a policy that required employees to retire at age 65, which is why they terminated her, but this is not a legal policy.
There are very few cases in which an employer is permitted to force employees to retire at a certain age. However, they are not required to enforce this – it is merely permitted to have mandatory retirement in these situations. Those cases include the following:
Executives in very high leadership or policy-making positions may be required to retire at age 65
Those in physical jobs, like a firefighter or a police officer, may be required to retire at age 57 upon reaching 20 years of service
Pilots serve a very demanding and important role, and they may be required to retire at age 65
For the vast majority of employees, a policy that requires people to retire at a certain age is not legal, so if your company has such a policy you may want to reexamine it. With thorough preparation and an open mind, discussing retirement can be a positive and constructive conversation.
With all these considerations in mind, you can see that discussing retirement with your employees doesn't have to be daunting. As always, PrestigePEO is available to assist in retirement discussions and any other potentially difficult situation you may have with a team member. Please reach out to your HRBP for further assistance. If you're not a client of Prestige and are interested in how we can help, we would love to chat further. Contact us at any time to learn more about our services.