Welcome to the PrestigePEO Client Resource Center
We know important questions deserve quick answers.

At PrestigePEO, we value our client relationships and offer a wide range of client support. These resources are intended for PrestigePEO client managers and employees. If you are new to PrestigePEO and interested in hearing more about our services, click here.
For Employees

Resources
*click to global documents to access HR Forms and W2 Reprints

Benefits Center
*click to global documents to access the Benefits Center
For Client Managers
Are you a client manager? Use the resources below to access the information you're looking for!

Resources
*Search - Manage Documents to access Global Documents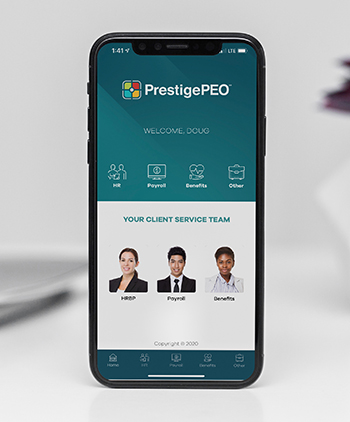 The Power of a PEO Right in Your Pocket
PrestigeGO simplifies HR for you and your employees by putting the power of a PEO right in your pocket. Access payroll options, view employee benefits information and instantly connect with your dedicated HR specialists – anytime and anywhere. Available for iPhone and Android devices.
Download PrestigeGO in the App Store or Google Play to get started or click here for more information.