Introducing an HR Mobile App For Employees
The Power of a PEO Right in Your Pocket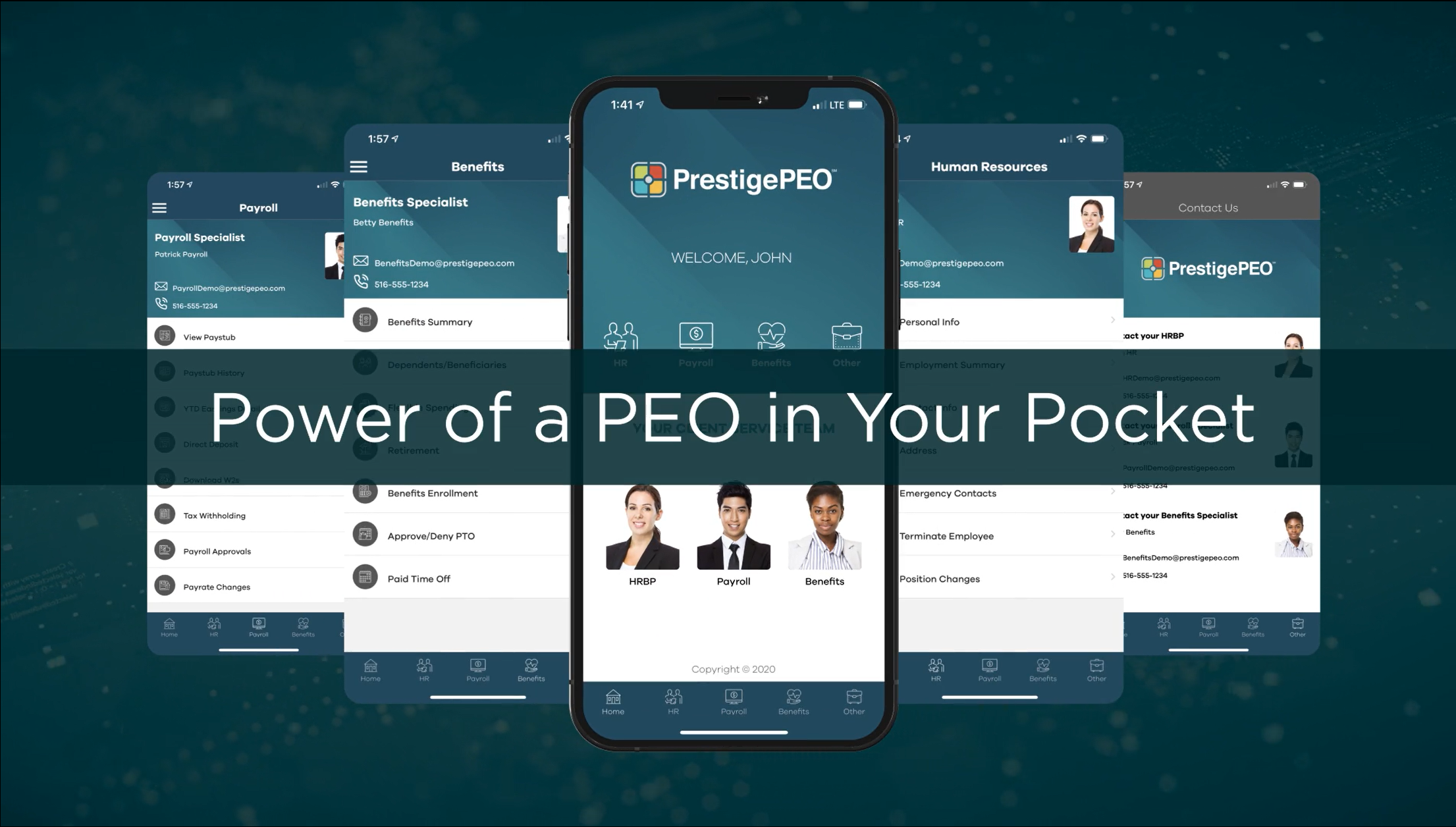 PrestigeGO provides solutions for you and your employees with the best HR in your pocket app. Access payroll options, view employee benefits mobile app information, and instantly connect with your dedicated HR specialists – anytime and anywhere. Available for iPhone and Android devices.
Simple. Seamless. Secure.
MANAGE YOUR HR
Convenient options to handle critical HR functions.
[Managers]
Seamlessly execute position changes, pay rate adjustments, and terminations while working remotely or on-the-go. You can also instantly connect with your certified PrestigePEO HR specialists for personalized support on all things HR.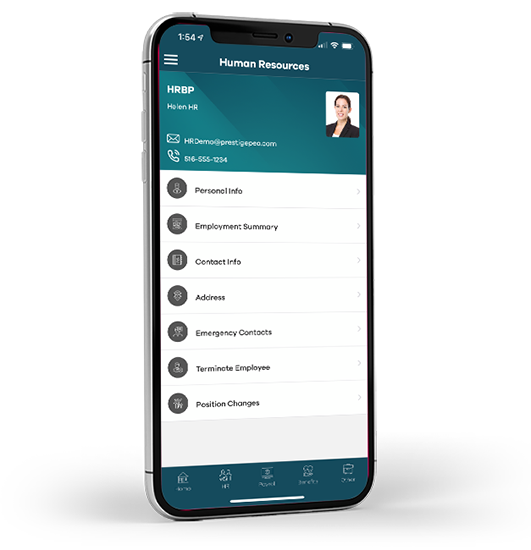 Mobile Payroll App
Quick and easy payroll management.
[Managers]
Whether you're working remotely, on the go, or simply need to get things done quickly, PrestigeGO makes payroll a breeze. Review and approve payroll in just a few taps. And if you need more assistance, simply click to contact your dedicated PrestigePEO payroll specialist(s).
[Employees]
PrestigeGO provides easy access to everything you need to know about your paycheck. View recent paystubs, pay history, and check out a complete breakdown of YTD earnings and tax withholdings. You can even download your W-2 right from the HR mobile app for employees.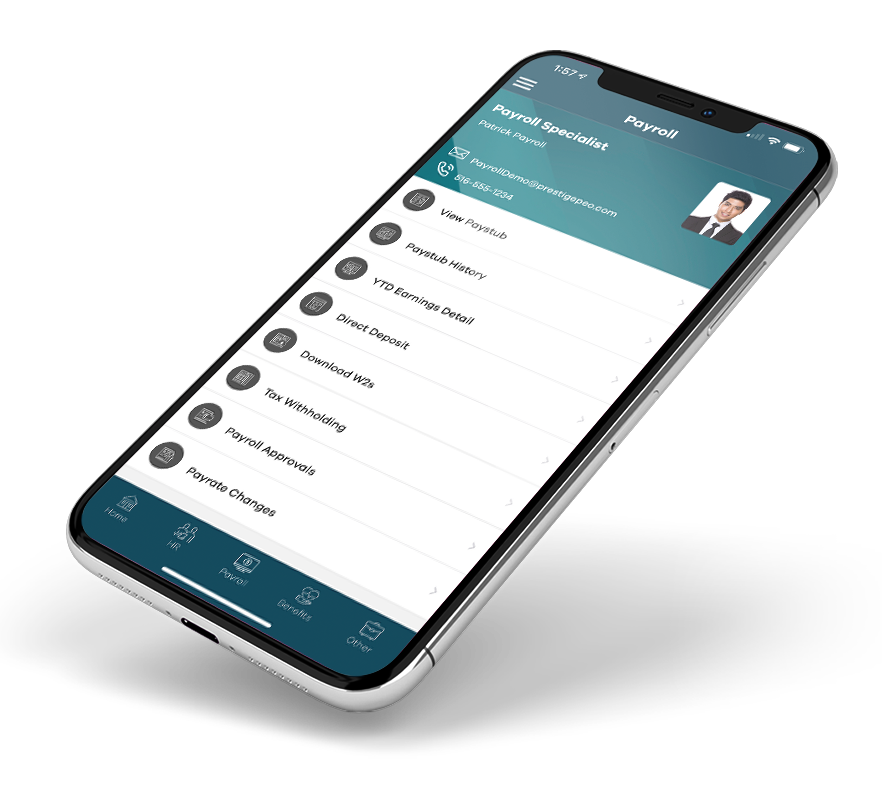 YOUR DEDICATED SPECIALISTS
Instant access to certified HR professionals ready to help.
w[Managers and Employees]
Need further support a with a payroll, employee benefits, or other HR issue? Instantly connect with your dedicated PrestigePEO specialists via the PrestigeGO HR mobile app for employees for personalized, one-on-one assistance for all things HR.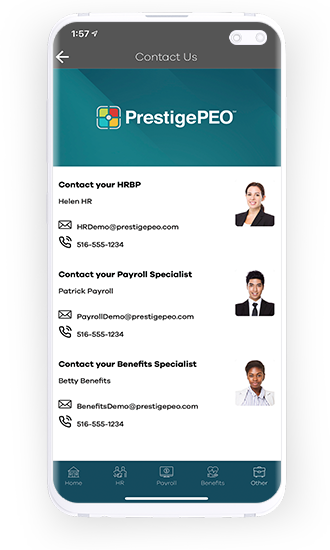 TIME OFF AND LEAVE
A faster way to request and approve time off.
[Managers]
Make cumbersome time-off procedures a thing of the past. With PrestigeGO, you can instantly review, approve, or deny PTO and other kinds of employee leave requests.
[Employees]
PrestigeGO makes it easy to manage your vacation and sick days. Take a look at your available balances and submit requests for time-off in just a few steps.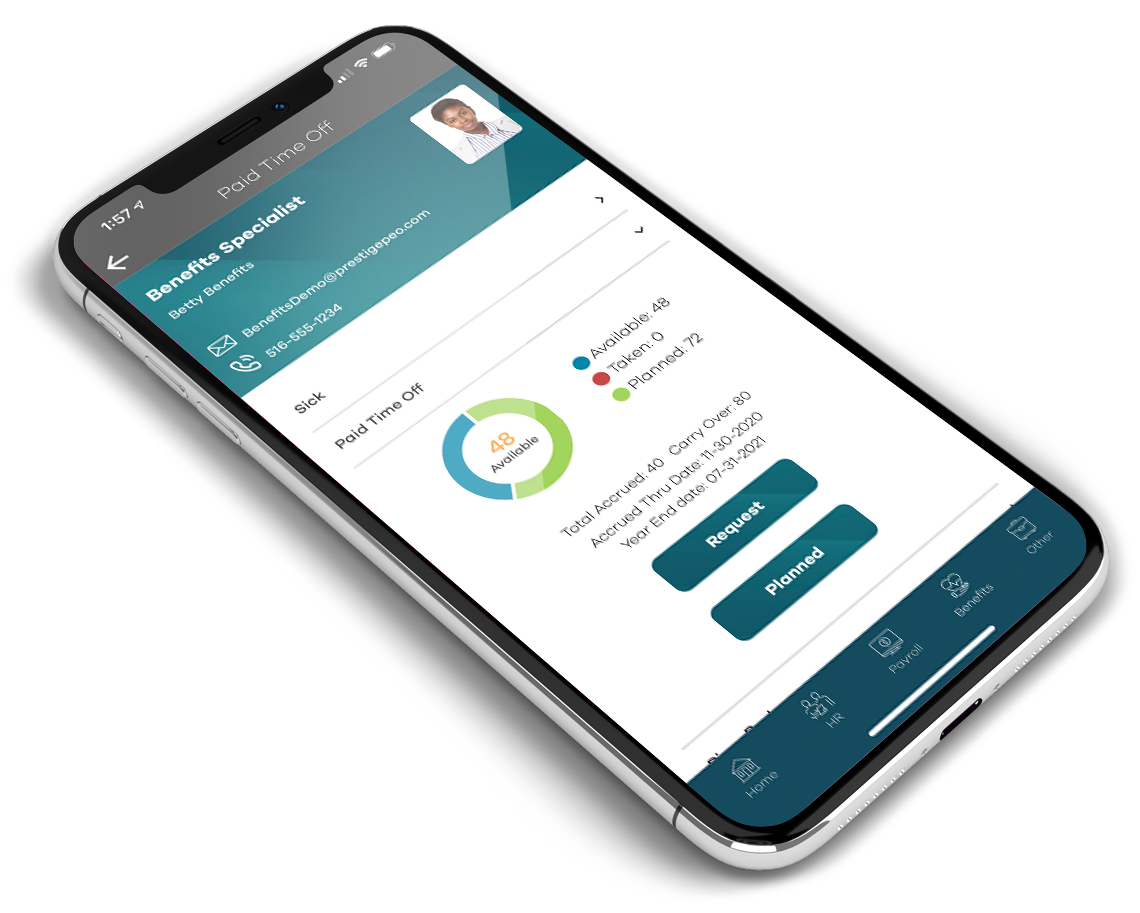 Employee Benefits Mobile App
Vital employee benefits information at your fingertips.
[Employees]
Quickly access important details about your employee benefits – including medical, dental, vision, life, disability, and supplemental insurance, as well as your retirement plans – all in one place. You can view employee benefit mobile app summaries, associated costs, information on dependents, and monitor activity on your Flexible Spending Accounts.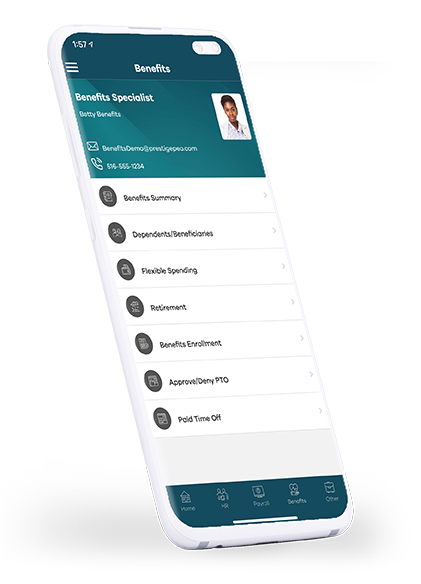 ENHANCED SECURITY & USER EXPERIENCE
Completely redesigned to improve usability, security, and navigation.
[Managers and Employees]
The latest version of PrestigeGO includes biometric authentication options for improved security and a completely refreshed look and feel to improve the user experience.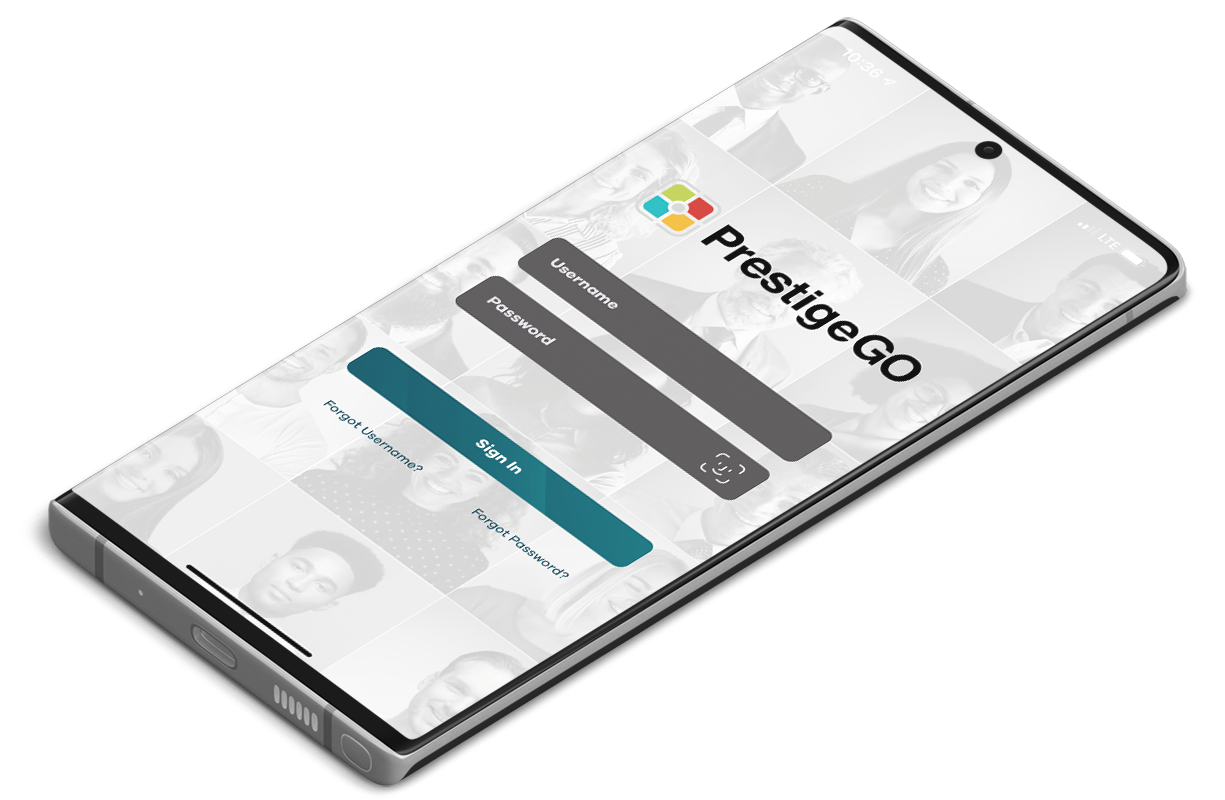 Contact PrestigePEO to Learn More