Broker FAQs
Please browse our Frequently Asked Questions (FAQs) below to determine why we're the ideal partner for brokers. Learn more about our broker-driven business model, the unlimited income opportunities we offer, the competitive and industry-leading commission rates we provide brokers. You'll gain insight into how we do business, the personalized service we're committed to delivering to you and your clients, and why PrestigePEO is where brokers go to ensure their clients are happy and to help build their book of business.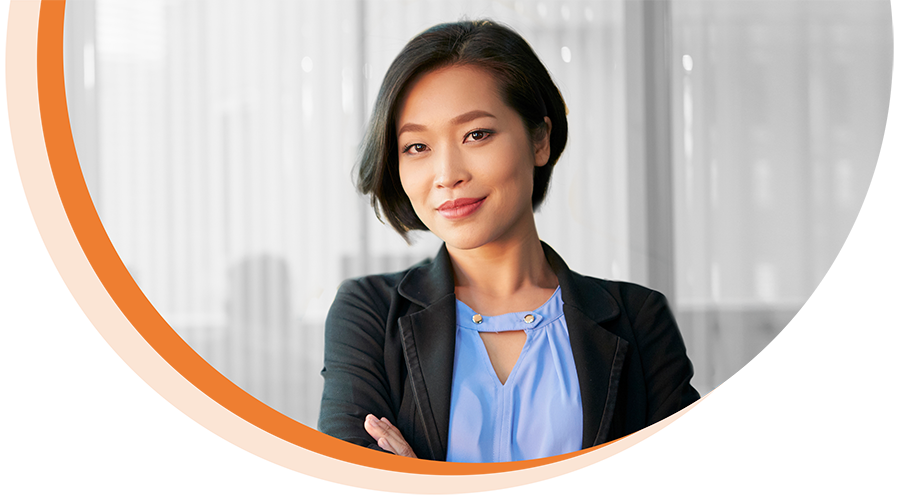 1. How do I become a broker referral partner with PrestigePEO?
2. Why is PrestigePEO a leading PEO Broker Partner?
Personalized Service – PrestigePEO provides a white glove experience to each of our clients and broker partners. When other PEOs are moving toward automated customer service operations, we're committed to providing personalized service – no call centers or chatbots here.
Pricing Transparency – PrestigePEO can deliver large-company employee benefits at rates lower than clients can get on their own. Our pricing is always transparent. We build strong relationships with our brokers by providing line item pricing for each benefit. No need to guess where your clients' total savings are coming from.
Compliance – Our compliance and risk management team will guide you through the complexities of local, state, and federal employment laws. We know compliance, and we know the labor laws. You can depend on us to know exactly what you need to meet your legal and regulatory requirements as an employer.
Single Digit Renewal Rates – Partner with PrestigePEO today to offer your clients and their employees a wide range of medical, dental, vision, life, 401K, and other desired supplemental insurance plans from the leading providers – all at reduced costs. It goes beyond securing great rates. We work to make sure you and your clients continue to access the discounts year after year, with annual renewal rates consistently in the single digits.
3. What is PrestigePEO's Concierge Service?
PrestigePEO provides a white glove experience to each of our clients and broker partners. At a time when other PEOs are moving toward automated customer service operations, we're committed to providing personalized service – no call centers or chatbots here.
4. How does PrestigePEO help insurance and benefits brokers?
We've built our business with the support of brokers like you, so we ensure you're a part of our success – and compensated for it. Most PEOs offer limited commission opportunities to brokers based on admin fees. On the other hand, PrestigePEO offers brokers the usual commissions plus unlimited opportunities to earn, including via multiple product lines. Our full-service teams are always available to support clients with employee benefits administration, payroll, and other critical HR functions –. We even work with brokers to customize proposals to include the services their clients need and exclude anything they don't.
5. What is a broker referral partner?
A broker referral partner partners with PrestigePEO to provide small and mid-sized businesses a full spectrum of HR services and solutions that help lower employee benefit costs, reduce administrative workloads, and manage critical HR functions.
6. How many brokers do PrestigePEO partner with?
PrestigePEO partners with close to 200 brokers.
7. What kinds of technology solutions does PrestigePEO offer brokers and companies?
PrestigePRO, our technology platform, offers clients and their employees the increased functionality, flexibility, and efficiency to manage their day-to-day activities. Payroll and benefits information, in-depth reports, and employee records can be easily accessed through a centralized web-based portal.
8. What is the broker sales journey with PrestigePEO?
Brokers interested in partnering with PrestigePEO can visit our Broker website https://www.prestigepeo.com/for-brokers/ or they can contact us directly at 888-PEO-PEO1 or brokersales@prestigepeo.com. New brokers will be assigned to work with a PrestigePEO Business Development Manager to provide them with all the required information to begin quoting.
9. What industries does PrestigePEO service?
PrestigePEO's main verticals are as follows:
Financial Services
Financial Technology
Healthcare
Marketing and Advertising
Nonprofits & Social Services
Professional Services
Retail & Wholesale
Real Estate & Property Management
Communications and Media
Technology
Start-ups
10. What Size SMB's does PrestigePEO work with?
On average, the client size for PrestigePEO is 20 employees. Prestige also services clients starting at six employees up to 1,000.
11. What PEO Services does PrestigePEO offer?
Premium Employee Benefits, HR Management & Consulting, Payroll Services, Workplace Compliance, and Workers' Compensation Coverage and Retirement Services. An entire team of dedicated professionals to assist in the day-to-day business operations.
12. Does PrestigePEO offer competitive rates, commissions, and bonus structure?
Yes, from commissions on medical, dental and vision to supplemental insurance and retirement plans, you have unlimited opportunities to earn with PrestigePEO. When you partner with PrestigePEO, you get:
Locked-in, above-average market commissions on multiple product lines
Competitive rates on employee benefit plans
Commissions for the life of the case
Lifetime ownership of your client (NO acceptance of Broker of Record Letters)
A customized service package that includes everything your client needs – and excludes anything not required
Access to an exclusive broker bonus program where you can DOUBLE your HR service fee commissions!
13. What is the difference between a PrestigePEO Internal Sales Rep and a Broker Partner?
An internal sales rep is an expert within PrestigePEO that helps bridge the connection between brokers, their clients and PrestigePEO. The sales reps will initiate the process to help explain the benefits of doing business with PrestigePEO for brokers and their clients.
14. Does PrestigePEO Protect both Brokers & SMBs from Fines, Penalties, and E.R.I.S.A. Violations?
Yes, PrestigePEO provides the compliance and risk mitigation that both brokers, and clients, will benefit from and need. Our compliance experts will guide brokers and their clients through the complexities of local, state, and federal employment laws. PrestigePEO will help reduce the risk for employers and ensure they avoid costly fines and penalties.
Additionally, PrestigePEO is among only 1% of all PEOs nationwide that maintain all three most stringent industry credentials. We hold certifications in the following: CPEO (Certified Professional Employer Organization), ESAC (Employer Services Assurance Corporation), and the Certificate Institute's Workers' Compensation Certification.
15. Does PrestigePEO work with Broker Agencies & Broker Individuals?
Yes, PrestigePEO partners with individual or independently licensed brokers as well as larger brokerage agencies or firms. PrestigePEO is willing to work with all licensed general agents as well. PrestigePEO also works with large brokerages (like insurance aggregators and clusters). We strive to continue being the PEO that brokers trust and feel confident in helping their clients grow their business while building brokers' books of business.
16. What kinds of licenses and qualifications are required of a Broker Partner working with PrestigePEO?
A broker only needs to have a Health License to do business with PrestigePEO. We welcome brokers with several different licenses, like a financial license for 401k, as an example. Yet, the only requirement PrestigePEO needs from its potential broker partners is a Health License.
17. What is the compensation | commission structure for Broker Referral Partners of PrestigePEO?
The compensation and commission structure that PrestigePEO has set forth for brokers is unparalleled and unmatched by any other PEO in the industry. We're one of the few PEOs that provide compensation on HR admin fees and individual products, including medical, dental, vision, life, and disability insurance. We're also offering an additional incentive program to brokers. Brokers can learn more about lifetime payouts and competitive market commissions here – https://www.prestigepeo.com/for-brokers/
18. Are PrestigePEO Broker Partners employees of PrestigePEO?
No, broker partners are not considered employees of PrestigePEO. They are considered trusted partners that we work with to help deliver the HR support, benefit plans, payroll management, and compliance help that their clients need.
19. As a Broker can I work with multiple PEO Companies besides PrestigePEO?
Yes, you can technically work with multiple PEO companies besides PrestigePEO. PrestigePEO provides all the services, benefits, and compensation packages you could essentially want from a PEO. PrestigePEO is one of the few PEOs that want to willingly work with brokers and never accept BORS (Broker of Record Letters), which means brokers will never lose their clients if they remain with PrestigePEO. Additionally, PrestigePEO doesn't require production requirements or minimums for brokers to partner with PrestigePEO, which a lot of other PEOs don't do.
20. What unique benefits does PrestigePEO offer Broker Partners versus competitors?
There are several unique benefits that PrestigePEO offers brokers versus competitors or other PEOs in the industry. PrestigePEO compensates brokers more than any other PEO. We offer competitive market commissions on supplemental plans, vision, dental, medical, HR admin fees, and even 401(k) retirement plans* (must be licensed to receive commissions).
PrestigePEO also offers concierge-level support. PrestigePEO provides brokers and their clients with a dedicated team of certified specialists for HR management, Benefits, Payroll, Compliance, and Workers' Compensation, all accessible to brokers and their clients directly.
Additionally, PrestigePEO is entirely transparent with its pricing and offers flexible and customized quotes for brokers and their clients. Brokers can also expect PrestigePEO to work diligently on their behalf to ensure consistently low, single-digit renewal rates for their clients.
21. Does PrestigePEO add to the Broker prospect funnel via marketing channels or are new leads the sole responsibility of Broker Partners?
Yes, PrestigePEO will assign new leads, whether driven in by our broker partners or not, to brokers directly. If not the only PEO, we're one of the few PEOs that will assign direct leads and/or prospects to our brokers. It's the core of our business model. PrestigePEO wants to continue building and strengthening its relationships with brokers and driving new clients to our partners is one way we do so.
22. How can PrestigePEO help my clients grow their business?
There are several ways that PrestigePEO can help your clients grow their businesses. When you partner with Prestige, we partner with your clients to provide affordable healthcare employee benefits options that would otherwise be difficult to access or too costly to do.
Your clients will receive full-service HR support. With a dedicated team of specialists, Prestige can help reduce administrative tasks and manage crucial HR functions, allowing your clients to focus on the growth of their business. PrestigePEO helps small and mid-sized businesses with legal and risk mitigation. All our service offerings allow clients to focus on growing their business while PrestigePEO and our team of specialists handle the rest.
In essence, PrestigePEO ensures clients that we can increase their revenue, help optimize their workforce, reduce costs, and provide the essential service, knowledge, and expertise required to overcome future challenges.
23. What are the pros and cons working with a PEO for Independent brokers and SMBs?
There are many pros/benefits in working with a PEO for independent brokers and SMBs. Independent brokers benefit by receiving lifetime payouts on the case they bring (as long as the client remains with PrestigePEO), client referrals are paid directly to the broker. PrestigePEO doesn't accept any BOR (Broker of Record) Letters. We provide competitive commissions and much more income opportunities compared to
24. What should we look for in a PEO Referral Broker relationship?
Brokers should look for a PEO that is committed to maintaining a strong and communicative relationship with them and their clients. Brokers and referred partners should look for a PEO that is dedicated to helping their clients with all their business challenges.
A PEO should deliver brokers and their clients a value proposition that is grounded in liability reduction, cost reduction, workforce optimization, operational efficiency, and an increase in revenue. These are the pillars to the foundation of a true relationship between a PEO, a broker and clientele.
25. What is a PEO Broker Relationship?
A PEO Broker relationship is one in which brokers understand the benefits that a PEO can deliver their clients from an HR, Employee Benefit, Payroll, and Compliance perspective. It's a relationship that is grounded on the ability of a PEO to deliver dedicated and personalized support for the brokers' clients. The relationship is also based on the ability to help brokers build their book of business.
Contact PrestigePEO to Learn More