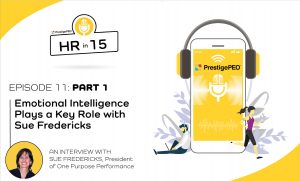 Today we speak with Sue Fredericks, President of One Purpose Performance. Sue founded this management consulting company in 2000 to help organizations build more productive culture and communication. 
In our conversation today, she applies this wisdom to the unpredictable times we're living through and gives advice that will help you and your team succeed.
Episode highlights include:
What challenges create alignment issues and silos within an organization?

Now with many employees working from home, how do we ensure that companies stay aligned toward well-defined goals?

What are the

four critical areas for emotional intelligence,

and why are they so important to individual and company success?

What are the next steps companies should take in our current environment of rapid change and uncertainty?
"There will be more change in the next two years coming up than we've seen in the past 20 years." – Sue Fredericks
Have Questions? PrestigePEO is always available to help you navigate these uncertain times with regard to Human Resources, Employee Benefits and Payroll Management. Call Us Today at 888-PEO-PEO1 or contact us at prestigepeo.com
Sue Fredericks has been developing workforce potential in the corporate sector for more than 25 years. She has held leadership roles with Olsten Corporation, Campbell Soup Company, Keebler Foods Company, Friedrich Air Conditioning Company, and National Medical Care. Fredericks founded One Purpose Performance in 2000.
One Purpose Performance, Inc. is a management consulting firm that helps companies and organizations align actions of leaders and staff to work together towards clearly defined goals. Their versatile, full-service practice focuses on developing leadership and maximizing organizational performance.