OSHA Compliance Management
The Occupational Safety and Health Administration (OSHA) is responsible for creating safety standards for companies. These policies are then enforced on both the federal and state levels, and are promoted through education and training so companies are capable of providing the healthiest working environment for employees. APR, can help you remain up-to-date with these procedures.
OSHA Services
OSHA is dedicated to promoting safety awareness and preventing employee injuries. It offers to respond to incidents that occur on the worksite. When an injury or accident does occur, OSHA may investigate the situation. Inspections are random and occur without notice. This provides your company with another reason to remain prepared. There is a greater chance for an inspection when there has been an accident involving a fatality, a situation is identified that requires an immediate repair, and many other scenarios.
OSHA offers to perform on-site consultations that are used to educate businesses about potential hazards and help them improve their existing safety procedures. They provide customized advice and may even allow you to be skip the annual inspection for that year.
Remaining Compliant with OSHA
It is important for your business remain compliant with OSHA standards. OSHA's policies are in place in order to protect both your company and your employees. Its regulations are meant to help you, but, if you fall behind in compliance, your worksite may become hazardous. When OSHA comes to inspect your business, if it is not compliant with its standards, the organization will fine you. In general, a $7,000 fine may be handed out for every violation in order to encourage you to remain up-to-date. If the situation becomes too dangerous, OSHA has the authority to shut your company down completely. Therefore, if you want to ensure the safety of your employees and company, avoid extra fines and remain in business, you should make sure you are following the most recent protocols.
How A PEO Can Help
It can be difficult to keep up with the ever-changing policies of OSHA. For a small business, this could be a costly distraction. As a PEO, APR can help your company remain compliant. APR provides not only workers' comp solutions but methods to help prevent accidents. Our PEO will learn about new policies and figure out how to implement them in your company. We will also provide training programs for your employees and advise you on which employees are certified to perform certain tasks that require safety training. Outsourcing your HR to APR will help prevent your company from being fined while making sure your employees are safe. APR can also offer a safety handbook that is specifically tailored to your business.
Overall, following OSHA's changing standards is integral to the health of your company and workers. You can face serious repercussions if you ignore them or are not able to keep up with them.  APR can help by providing services to make sure you are following OSHA's standards while saving you time. You are free to focus on your growing business rather than learning about new policies and figuring out how to implement them. As a PEO, APR can provide you with services to educate your workers and remove hazards from your worksite.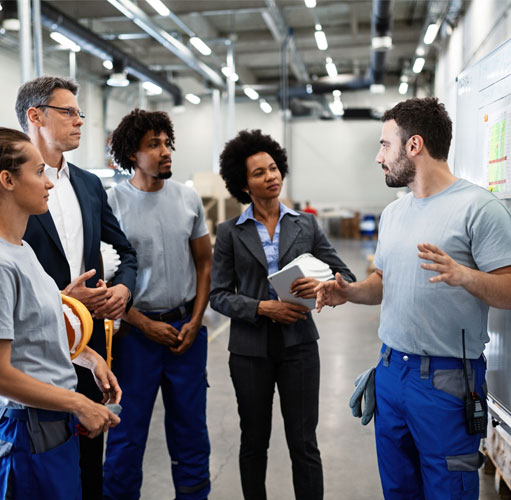 For Additional Information