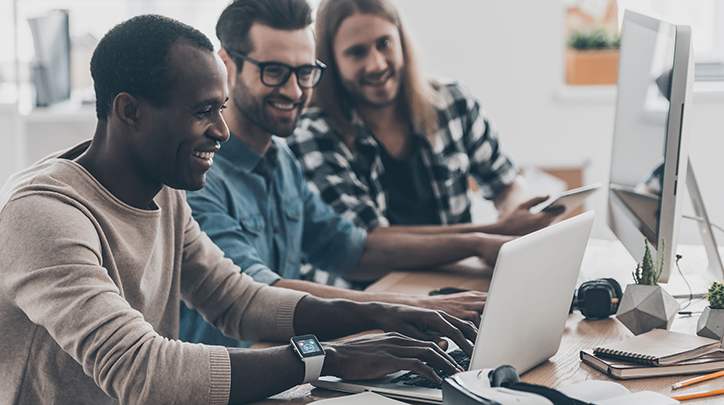 Exploring the benefits of partnering with a PEO
Owning a business can be overwhelming. While you're simultaneously trying to market yourself, you're also handling sales, logistics, hiring and the list goes on and on. Why not take one huge chunk off your responsibilities and hire a PEO (Professional Employer Organization)? Small and mid-sized business owners (SMBs) partner with PEOs to help take on their HR management and administrative needs. You're not giving up your role as owner or CEO, rather you're utilizing a team of HR experts to help maintain an incredible work environment for both yourself and your employees so you can focus on growing your business. We've put together a list of the top 10 actions or responsibilities a PEO can do for you, check them out below.
1. Access to fortune 500 benefits
Employee benefits are crucial for attracting top-tier talent and retaining your best employees.  In fact, according to SHRM, "92% of employees say employee benefits are important to their job satisfaction." By partnering with a PEO, you will have access to fortune 500 employee benefits that you wouldn't have otherwise.  Employers can provide access to a wide range of medical, dental, vision, life, disability, and supplemental insurance plans from leading providers at affordable rates.
2. Offer your employees retirement planning options
As of June 20, 2021, there was $7.3 trillion in assets held in 401k plans in America.  This means, that more and more employees are realizing how important it is to save for their future retirement.  Offering 401k plans to your employees is a no-brainer, but it can come at a costly price if you're not partnered with a PEO.  PEOs offer a larger pool of investing options (like employee benefits) therefore lowering the rates for employers and giving employees the best possible options for saving.
3. Payroll
While payroll is necessary for all businesses, it is an additional perk you get by partnering with a PEO.  Payroll processing is just one minor piece of the PEO puzzle and by grouping this service with the others a PEO can provide, you ensure that your employees' payroll is processed appropriately since their details are already accounted for in the PEO's system.
4. Protect your business and avoid potential risky legal fees
PEOs provide compliance expertise that ensures your business remains state and federally compliant "state required" annual training such as sexual harassment.   Through comprehensive employee handbooks, direct employee support, and guidance on documentation procedures regarding disciplinary issues, you can run your business and leave all the HR intricacies to your PEO.
5. Guidance on progressive discipline and employee termination
PEOs are great proactive support when it comes to dealing with sticky employee situations.  HRBPs can guide you through a tough conversation with an employee that includes a performance management plan.  And if the time comes when an employee needs to be dismissed, your HR team can walk you through how to appropriately let them go and reference any past documentation when doing so.
6. Employee assistance for confirming work-state/home-state
When it comes to remote work and telecommuters, trying to figure out the paperwork can be tricky.  With the assistance of a PEO, you can rest easy that you've properly filled out all forms and your employees are well taken care of.  This assistance is crucial in making sure your business books are properly filled out and there will be no headache come tax season.
7. Employee handbook assistance
Employee handbooks were essential pre-pandemic to ensure that all employees were following the same guidelines. However, when COVID-19 became an issue for all workplaces, an employee handbook became crucial in sticking to the ever-changing rules.  A PEO can provide legally sound handbook assistance to make sure your business is prepared.
8. Workers' compensation guidance
Since your employees are your greatest asset, it's important to make sure they are well protected in the unfortunate instance of a workplace accident. By partnering with a PEO, businesses receive reduced workers' compensation rates and maximum coverage for their employees.  It's a great compliment to the other services a PEO provides your business.
9. Educational podcasts, webinars & newsletters
One of the best parts of partnering with a PEO is the regular communication you receive around HR guidance and support. For example, PrestigePEO holds regular webinars to discuss topics such as President Biden's mandates, educational podcasts around relevant topics like diversity, equity, and inclusion and we send out newsletters on compliance, benefits, and HR topics.  You can't go wrong by being well informed.
10. Mobile app for 24/7 assistance
And last but certainly not least, PrestigePEO provides a mobile app for all your HR needs.  Not all PEOs do this, but Prestige finds it important for clients and their employees to be able to access their HR information at any time. This information ranges from contact details for your HR team, pay stubs, and employee eligible benefits.  This way, you're connected anytime and anywhere.
Partnering with a PEO can only benefit your business. By taking away the stress of coordinating all HR management responsibilities, you can clear your mind to expand your company.  Let a PEO give you the guidance you need to support your employees and let their fortune 500 employee benefits keep those employees happy and potentially attract new ones.  A PEO realizes how much your business means to you and is ultimately around to support your needs as much as possible.