PrestigePEO Insights is your guide to the latest HR news in a bite-sized package! We'll share our ideas for inspiring your team, answers to frequently asked questions, and we'll keep you up to date on the HR information you need to know. We hope you find this newsletter helpful! If you have any questions or would like to learn more about partnering with PrestigePEO, please feel free to contact us at any time.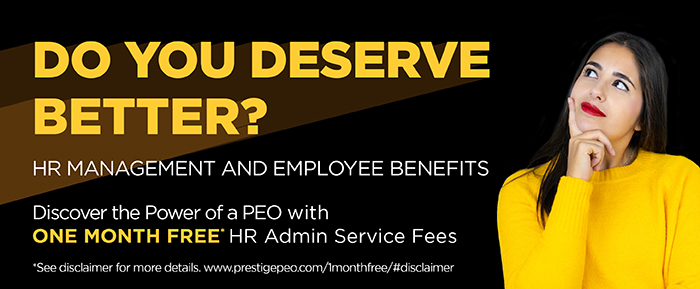 You Deserve Direct Support & Customized HR Services.
Ready to get Started?
For a limited time, we're offering ONE MONTH FREE on your HR Admin Service Fees!*. There's never been a better time to join us and get started on your path to success. Learn more about this exclusive offer here!
TIPS AND TRICKS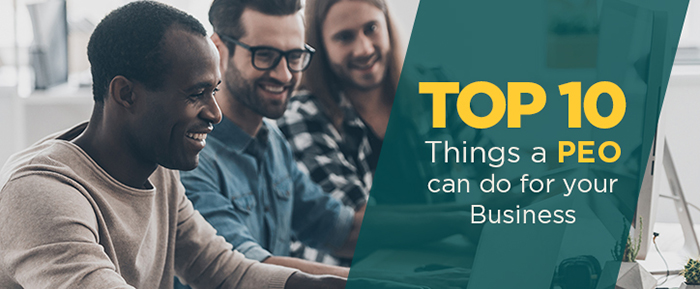 Top 10 Things a PEO can do for Your Business
PEOs work on behalf of small and mid-sized businesses by overseeing HR management, employee benefits, compliance, payroll, retirement plans, and more. They serve as your remote HR team to onboard new hires, field any questions regarding employee benefits, and anything else an internal HR team would do. Curious about what else a PEO could do for your business? Read the top 10 things a PEO can do for your business in our latest blog post!
THE HR CORNER: ASK AN EXPERT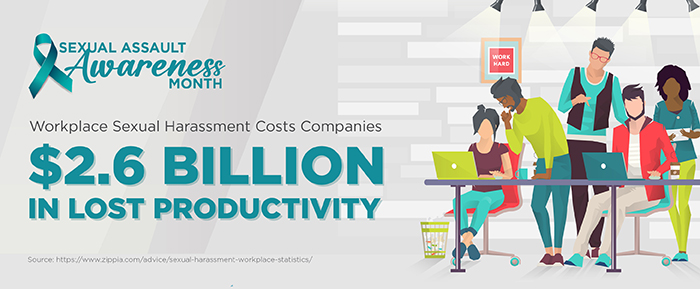 April is Sexual Assault Awareness Month
Make Sure Your Employees are Trained Properly
Sexual harassment is an important issue both in and out of the workplace. Some states require sexual harassment training, but many don't. Whether or not your state legislation requires it, you should make sexual harassment training a priority. Research has shown that workplace sexual harassment costs companies $2.6 billion in lost productivity and $ 0.9 billion in other costs. * A sexual harassment claim can derail other projects, meaning that your employees need to put off normal tasks to handle the complaint. Most importantly, your company should be a safe place for everyone to work, and sexual harassment training educates your employees on inappropriate behavior. At PrestigePEO, we can guide you on how to properly train your employees, as well as handle and investigate any complaints should they arise.
THE SCOOP: HR NEWS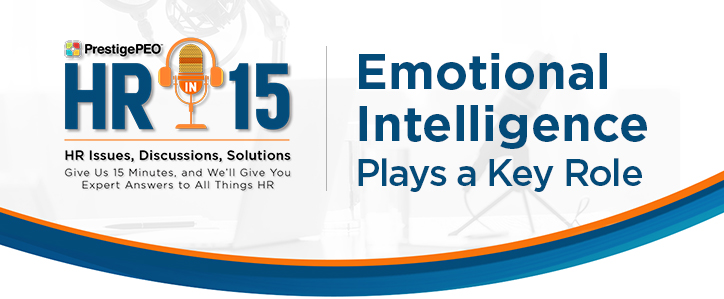 HR in 15 Podcast: Give us 15 Minutes, and We'll Give You Expert Answers to All Things HR
HR in 15 is our podcast where we talk discuss important HR topics with leading subject matter experts. The episodes cover the latest HR news and any issues or concerns you may be dealing with in your office. Be sure to tune in for an informative 15 minutes!
Emotional Intelligence Plays a Key Role with Sue Fredericks, President of One Purpose Performance
How can emotional intelligence help you revitalize your culture and communication? In this episode of HR in 15, we speak with Sue Fredericks, President of One Purpose Performance. She applies this wisdom to the unpredictable times we're living through and offers advice that will help you and your team succeed. Listen to it here.