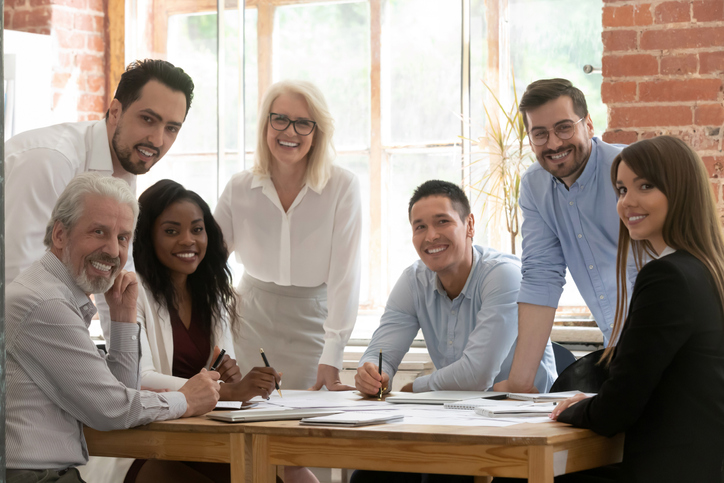 What is a PEO? It's a common question because many business leaders don't realize that they don't have to do everything on their own – especially when it comes to human resources (HR).
Small and mid-size businesses are often unable to adequately support their employees and handle the administrative burdens typically associated with HR. Whether your business is looking to quickly scale, or simply make it through the COVID-19 pandemic, it's a lot of work for small teams working with limited resources and budgets.
A PEO or "professional employer organization" works on behalf of small and mid-sized businesses (SMBs) to manage employee benefits, compliance, HR management, payroll, and more. Here at PrestigePEO, we provide one-on-one support for all things HR, and we're continuously exploring new ways to better serve our clients. Keep reading to learn why it's more important than ever to partner with a PEO.
Employee Benefits
Employee benefits can be a huge financial and administrative burden on SMBs. Because they have fewer employees, it's often difficult for SMBs to negotiate affordable rates for premium health insurance plans and other employee benefits. Large corporations are able to attract and retain top talent with much more lucrative employee benefit packages.
A PEO combines the purchasing power of all its clients to provide access to exclusive group rates for top-tier medical, dental, vision, and other insurance plans. A PEO also enables SMBs to offer additional employee benefits such as financial wellness programs, gym reimbursements, and discounts on travel and entertainment. We also offer workers' compensation insurance and 401(k) programs.
Even with a PEO, however, employee benefit costs can skyrocket over time. It's important to partner with a PEO that demonstrates a commitment to minimizing costs for their clients. Here at PrestigePEO, we have a consistent track record of competitively low medical insurance renewal rates year after year.
Full-Service HR Support
Small and mid-sized businesses have long outsourced parts of their HR operations, but now more than ever, it's clear to see the benefits of partner that provides more holistic HR support. Recent data shows that SMBs that partner with a PEO are 91% less likely to still be temporarily closed, and 60% less likely to have permanently closed due to COVID-19 (NAPEO). That's because a PEO offers much more than piecemeal solutions.
Our approach to customer service at PrestigePEO enables us to serve as a true HR partner. In a world impacted by COVID-19, we're leveraging our one-on-one relationships with our clients to help them adapt to a business landscape that's rapidly changing. Rather than chatbots and canned responses, each of our clients receives the support of a dedicated team of HR, payroll, employee benefits, and compliance specialists.
We work closely with internal HR and leadership teams to understand your unique HR pain points at a granular level, as well as how they impact your organization at large. From there, we collaborate to identify the most effective solutions across the board.
Compliance
Businesses of all sizes are required to maintain compliance with a plethora of local, state, and federal laws. The list continues to grow as new health and safety regulations are introduced to combat COVID-19. This year, the shift to remote work made compliance even more complex, as many required communications had to be sent to employees via email or direct mail. PrestigePEO works directly with each of our clients to stay help them stay ahead of all compliance requirements despite any challenges caused by COVID-19.
As a proud member of NAPEO, the National Association of Professional Employer Organizations, PrestigePEO provides exclusive access to expert legal advice and updates straight from Capitol Hill. This year, we've kept our clients and business community informed with timely webinars and podcasts covering everything SMBs need to know about new legislation and compliance requirements as they unfold. We go the extra mile for our clients, helping them implement best practices to ensure they remain compliant with each change.
Payroll
Many SMBs utilize external payroll services, but a PEO is much more than a payroll service provider. As a co-employer, PrestigePEO assumes certain financial responsibilities on behalf of your business, including all payroll administration and compliance with local, state, and federal tax laws. We work with your HR team reduce their administrative workload and ensure that all your employees are always paid safely, securely, and on time.
It's a much bigger responsibility than simply processing payroll, which means we're able to provide much more comprehensive support. Due to COVID-19, for example, many businesses are seeking financial assistance from the Paycheck Protection Program (PPP), a federal program designed to help SMBs keep their employees on payroll. As our clients' PEO partner, we're able to provide personalized assistance as they apply for PPP loans and loan forgiveness. We've created custom reports that offer our clients line-by-line information to guide them through the application process, and we also offer webinars that offer step-by-step guidance from our team of experts.
PrestigePEO isn't a replacement for your HR team – we're an extension of it, and we're always here to help your team nurture an environment that encourages productivity and growth. We're developing new strategies and resources to equip our clients for a "new normal," and we're always working proactively to keep them informed about what's next. Learn more about how a PEO can help your organization build a better future at www.prestigePEO.com.