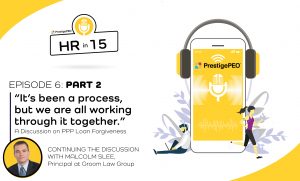 After small to medium-sized businesses pointed serious discrepancies in the guidance as to how to properly use PPP loan proceeds to maximize the potential for loan forgiveness – Congress, the The Treasury and the SBA made some adjustments.
On June 17, 2020, Congress updated the Pension Protection Flexibility Act, which reflects changes that are more helpful and accessible for borrowers to have a better opportunity to receive loan forgiveness. This update includes the addition of the SBA 3508 EZ, which is a simplified version of the standard loan forgiveness form.
PrestigePEO COO, Eric Foodim, is once again speaking to Malcom Slee, Principal at Groom Law Group, states, "If you have a choice between spending a dollar on somebody's salary or your mortgage payment that month, you want to allocate that towards the salary," when it comes to maximizing on your loan forgiveness eligibility.
Malcolm also shares insights on updates made by Congress, The Treasury and the SBA for the following topics:
How the SBA 3508 EZ Form has simplified the loan forgiveness application process for PPP.
Updates to the 24 week wage gap and what business owners need to know when reporting on salaries and wages.
What items are considered eligible for loan forgiveness that makes up the 60% payroll costs.
Adjustments to deferral options for businesses regardless of whether they received PPP loan forgiveness.
Have Questions? PrestigePEO is always available to help you navigate these uncertain times with regard to Human Resources, Employee Benefits and Payroll Management. Call Us Today at 888-PEO-PEO1 or contact us prestigepeo.com
Missed the first episode? Listen to our first episode  with Malcolm Slee, of Groom Law Group, where we discuss the legalities about 'Returning to Work Post COVID-19' here.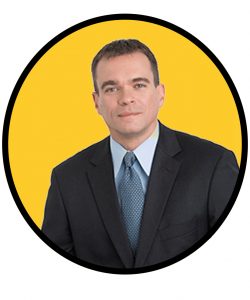 Malcolm Slee is the principal at Groom Law Group advises employers, issuers, plan administrators, associations and plan trustees on a comprehensive range of issues, working with many professional employer organizations (PEOs) to help clients develop strategies for managing their businesses and health care coverage within the constraints of federal health care law.