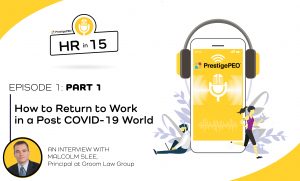 Returning to work in a Post COVID-19 world is going to require rethinking the way our teams work together.
"The most important thing is to keep your eyes and ears open.." – Malcolm Slee
Join PrestigePEO COO, Eric Foodim, as he interviews industry executives leading the discussion on workplace safety, design, and the legalities surrounding reopening your office or business.
In this inaugural episode, Malcolm Slee, principal at Groom Law Group, dives into the anticipated legal guidelines companies will need to adhere to, ensuring the health and safety of both employees, and customers.
Listen as Eric and Malcolm discuss the following:
Changes to the Workplace Environment
OSHA's Federal and State Guidelines
The CDC's Recommendations
and the impact of the CARES & recently passed HEROES ACT
The essential HR guidance you need now to create a safe, healthy, and productive work environment in a post-COVID-19 world.
Have Questions? PrestigePEO is always available to help you navigate these uncertain times with regard to Human Resources, Employee Benefits and Payroll Management. Call Us Today at 888.PEO.PEO1 or visit us online at prestigepeo.com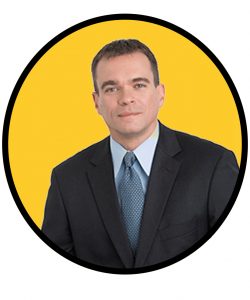 Malcolm Slee is the principal at Groom Law Group advises employers, issuers, plan administrators, associations and plan trustees on a comprehensive range of issues, working with many professional employer organizations (PEOs) to help clients develop strategies for managing their businesses and health care coverage within the constraints of federal health care law.