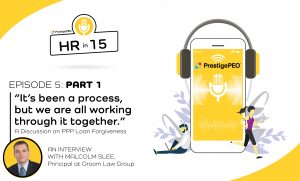 When the Payroll Protection Program was introduced shortly after the COVID-19 crisis hit the United States, small and medium size business were quick to take advantage of the available resources to sustain ongoing business losses and maintain some level of payroll for their employees.
Since then, the rules have changed. "It's getting easier as we get more familiar with it" – mentioned Malcolm Slee – but there is still a significant amount of unknowns and in many cases, confusion surrounding loan forgiveness.
One thing we know for certain – June 30th is the last day to apply for a PPP Loan. Now, focus will shift to loan forgiveness.
Listen as PrestigePEO COO, Eric Foodim, reviews the current PPP Requirements with guest, Malcolm Slee, principal at Groom Law Group. In this episode learn more about the essential dates and program guidelines to consider when seeking loan forgiveness, including:
The difference between 60% | 40% versus 75% | 25% payroll requirement.
How much of your PPP Loan can be forgiven?
How many weeks of payroll to you have to cover in order to be eligible for loan forgiveness?
What is the process to go about seeking forgiveness on a portion of your loan?
When do you need to bring your employees back to work and/or full salary?
Have Questions? PrestigePEO is always available to help you navigate these uncertain times with regard to Human Resources, Employee Benefits and Payroll Management. Call Us Today at 888-PEO-PEO1 or contact us prestigepeo.com
Missed the our first episode? Listen to our first episode  with Malcolm Slee, of Groom Law Group, where we discuss the legalities about 'Returning to Work Post COVID-19' here.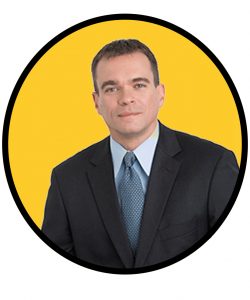 Malcolm Slee is the principal at Groom Law Group advises employers, issuers, plan administrators, associations and plan trustees on a comprehensive range of issues, working with many professional employer organizations (PEOs) to help clients develop strategies for managing their businesses and health care coverage within the constraints of federal health care law.