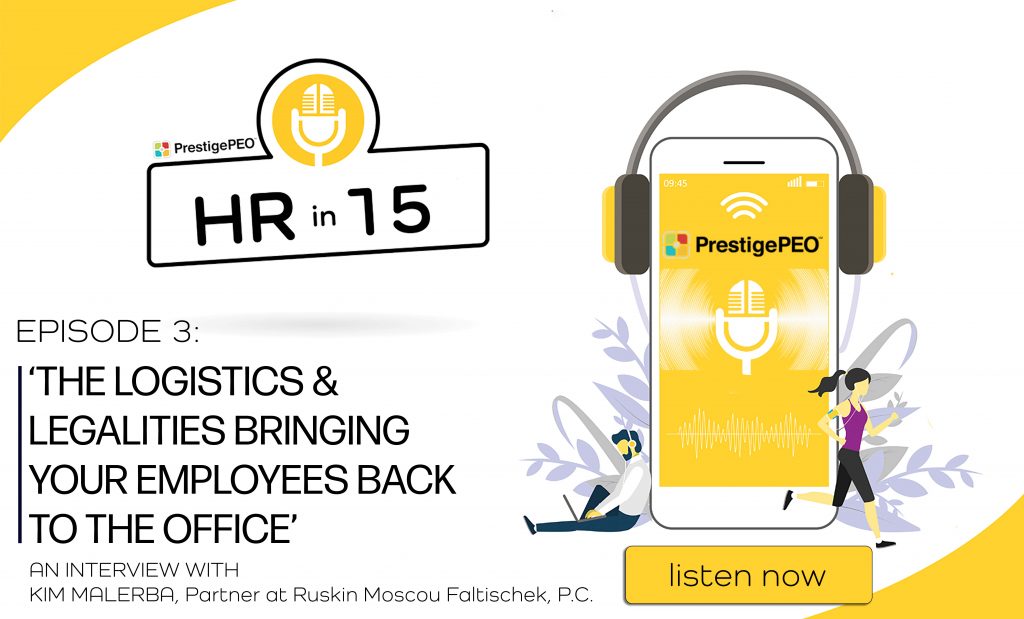 "Employees who are concerned about re-entering the world right now don't have a right, per say, to not return and maintain their job" – Kim Malerba, Partner at Ruskin, Moscou Faltischek, P.C.
Listen to Eric Foodim, COO of PrestigePEO discuss the logistics and emerging legalities around bringing your employees back to the office as states begin to reopen non-essential offices.
In this episode, Eric and Kim explore the options that companies are exercising to bring employees back to work while providing the safest work environment they can, following CDC and other federal guidelines. Listen as they discuss:
Employee Safety in Returning to Work
Bringing Back Furloughed Employees
Employer Rights When Employees Don't Want to Return
Details About the 'NY Forward' guidelines
Guidelines for Employee Job Modifications & Salary Changes
Have Questions? PrestigePEO is always available to help you navigate these uncertain times with regard to Human Resources, Employee Benefits and Payroll Management. Call Us Today at 888.PEO.PEO1 or visit us online at prestigepeo.com
Missed the our last episode? Listen to part 2 of our 'How to Return to Work In a Post COVID-19 World' discussion with Malcolm Slee of Groom Law here.