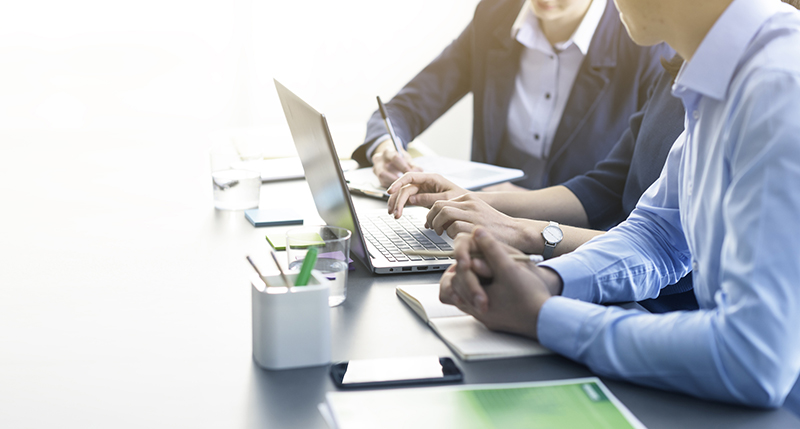 Businesses that work with a PEO are 91% less likely to still be temporarily closed and 60% less likely to be permanently closed due to COVID-19, according to research released by the National Association of Professional Employer Organizations (NAPEO). One reason that's the case is because a PEO provides small and mid-sized businesses (SMBs) full-spectrum HR support, including powerful technology platforms for essential functions like time tracking and performance management.
COVID-19 changed a lot about how business is done, but a lot of these changes are necessary and long overdue. Remote work, for example, is not a new concept. Our professional lives have long been migrating from physical papers in office buildings to emails and files saved "on the cloud", and at this point, technology is the workplace for many employees. COVID-19 only further highlights how important it is for businesses to be prepared to have their workforce remain productive from anywhere.
In a post-COVID world, employers are recognizing the value of reliable technology platforms that enable their employees to do their jobs, and also give managers the tools they need to track tasks, performance, and more. Keep reading for three areas businesses can implement technology to improve HR operations.
Time and Attendance Tracking
Long gone are the days of all your employees clocking in and out from a single workplace. With many employers' workforces now dispersed throughout the country – or even all around the world – it's more important than ever to invest in a comprehensive time tracking platform. Time tracking software makes it easy for employees to track hours worked and for managers to approve timesheets. It can also simplify PTO management, enabling employees to view and request time off online.
Digital time and attendance tools can help your internal HR staff streamline operations and reduce their administrative workload. Time tracking is often a frustrating experience for non-HR staff, too. The right solution can relieve your employees of tedious time and attendance policies and replace them with an intuitive digital experience. A PEO can help you identify the best time tracking solution for your team's needs and effectively implement it throughout your organization.
Performance Management
As remote work becomes the norm, it can be a challenge for employers to keep their workforces challenged and engaged. For some employers, it could even be difficult to ensure employees are remaining on task. Performance management tools empower employers to promote the ongoing professional development of their employees – no matter where they work. From training and assessments to nurture employee skills to key performance indicators and ongoing evaluations, performance management tools have the power to bring out the very best in your employees.
Payroll
Payroll is one of the most common administrative burdens plaguing SMBs. Many small HR teams spend a bulk of their time dealing with payroll and the chronic issues associated with it. A slow or cumbersome payroll process can also have a negative impact on employee satisfaction.
With the right payroll technology, SMBs can streamline operations pay employees faster. A PEO can help SMBs identify technology solutions that simplify payroll and provide employees with digital access to documents like paystubs and tax information. And unlike many payroll technology providers which only offer the technology itself, a PEO provides end-to-end support to fully manage all payroll operations on behalf of employers.
Expense Management
Expense management is another administrative burden that commonly plagues internal HR teams. Traditionally, expense management is a tedious paper-based process that requires several distinct managers, departments, and approvals. A digital expense management solution can help SMBs automate the process and reimburse their employees much faster. It can help businesses reduce their paper trail and give employees more time to focus on core business operations. An expense management platform can also provide customized data reports that may help SMBs implement smarter spending policies. It also brings efficiency to time tracking, employee benefits, and other HR functions. Your PEO partner can recommend the best expense management solution for your business's needs and train your employees to help encourage adoption across your organization.
An App to Bring it All Together
As technology evolves, it's quickly becoming an integral part of our professional lives. People across all industries are already accustomed to using a number of different technology platforms and mobile apps for their day-to-day jobs. Your employees are more technologically-savvy than you might think, and they're likely to respond favorably to any technology that could make their workday easier.
Many businesses find it beneficial to offer their managers and employees an all-encompassing HR app that provides employees with simple digital self-service options that are available 24/7. An HR app can enable employees to view and manage their time off, review employee benefits information, and even instantly connect with certified HR specialists. With the same app, managers can approve payroll and PTO requests, and make other time-sensitive updates. An app can easily resolve several HR bottlenecks that otherwise cost a lot of time for managers and employees alike.
Managing a workforce is a lot more complicated than it used to be, but the right digital tools can help your employees remain connected and productive through any challenge. A PEO can help your business identify the best technology solutions for your unique HR challenges. Contact us to learn more.