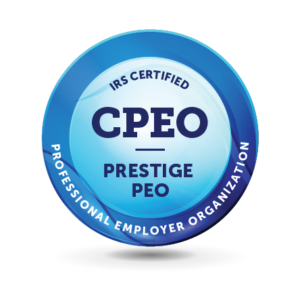 Date of certification: January 1, 2017
PrestigePEO was one of the first PEOs nationwide to receive IRS Certification. As a Certified Professional Employer Organization (CPEO), PrestigePEO is one of only 7% of all PEOs that meets the strict financial and tax reporting requirements of the IRS.
This PEO certification demonstrates that we maintain the highest industry and government standards for payroll administration, federal employment tax reporting and payments for our clients.
PEOs must adhere to the following federal guidelines for certification:
IRS-set expectations for tax status, background, experience, business location and financial reporting
A bond equal to 5 percent of the PEOs federal employment tax liability for the previous year: minimum $50,000/maximum $1 million
Annual independent financial statements prepared by a CPA
Independent CPA attestation and examination-level of payment of quarterly employment taxes quarterly.
As required by law, the IRS publishes a list of all organizations that are certified as a CPEO and the effective date of their certification. Please see us listed as Prestige Employee Administrators.