Our communities and businesses have all been permanently impacted by COVID-19. The pandemic has changed how the world does business, and it continues to present new challenges that are particularly difficult for small and mid-sized businesses to manage on their own.
As a professional employer organization or "PEO", PrestigePEO provides full-spectrum support to small and mid-sized businesses for employee benefits, HR management, compliance, payroll, and more. Amid the COVID-19 pandemic, the benefits of partnering with a PEO are clearer than ever before. Compared to other small businesses, those that partner with a PEO are 119% more likely to have received PPP loans, 91% less likely to be temporarily closed, and 60% less likely to have permanently closed. *
See below for resources from the PrestigePEO team.
New York is taking further action to protect our state's progress and aggressively respond to clusters emerging in specific areas of the state. Governor Cuomo is launching the Cluster Action Initiative to attack these clusters head-on with surgical precision to stop the spread. This action maps the clusters by density of cases.
The new restrictions will go into effect by Friday, October 9th, and will remain in place for a minimum of 14 days, after which they will reevaluate.
The clusters and outlying areas are separated into red, orange and yellow colored zones with corresponding levels of restrictions as shown in the table pictured here.
Color-coded maps for the six clusters below: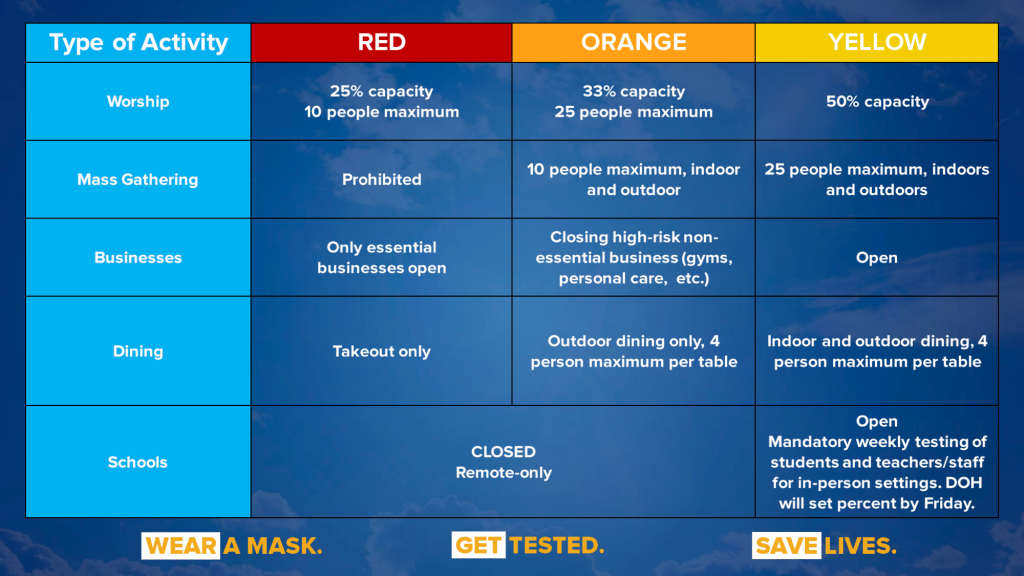 The Latest Tri-State Travel Advisory
New York Travel Advisory Update as of October 27th – Three States Added, None Removed; bringing the total of quarantine states to 39 and 2 territories
The New York coronavirus travel advisory has announced between last week and this that 3 states have been added to the list which requires the 14-day voluntary quarantine for those arriving from a state with a 10% or higher positive rate of COVID-19 cases over a 7-day rolling average. The newest states added are Arizona, California, and Maryland.
Currently, CT, MA, NJ, and PA meet the criteria for the travel advisory, however, due to the region's interconnectedness, it was decided that quarantine is not practical. Instead, Governor Cuomo, along with the governors of CT and NJ discourage non-essential travel between these states to the extent practical. The travel advisory does not apply to individuals classified as essential workers or those traveling through the designated states for a limited duration of less than 24 hours. The guidance lists examples of "brief passage" to include stopping at rest stops or layovers for air, bus, or train travel.
Here's the total updated list of states and territories on the current travel advisory:
Alabama, Alaska, Arkansas, Arizona, California, Colorado, Delaware, Florida, Georgia, Indiana, Iowa, Idaho, Illinois, Kansas, Kentucky, Louisiana, Maryland, Michigan, Minnesota, Mississippi, Missouri, Montana, Nevada, New Mexico, North Carolina, North Dakota, Nebraska, Ohio, Oklahoma, Rhode Island, South Carolina, South Dakota, Tennessee, Texas, Utah, Virginia, Wisconsin, West Virginia, Wyoming, Puerto Rico, and Guam
CDC Updates
New COVID-19 contact tracing procedures released by the federal government yesterday have expanded the category of individuals who are deemed to be in close contact with each other – and will complicate the already difficult task faced by employers when trying to maintain a safe workplace environment.  The updated guidance now indicates that workers should be considered to be at risk of contracting the novel coronavirus if they were within six feet of an infected individual for a total of 15 minutes or more over a 24-hour period during the 48 hours before the infected individual exhibited symptoms or, if asymptomatic, 48 hours before the COVID-19 test was administered, even if the interactions that lead to a cumulative total of 15 minutes were brief and spread out over that time.
For the latest CDC guidelines from Fisher Phillips click here.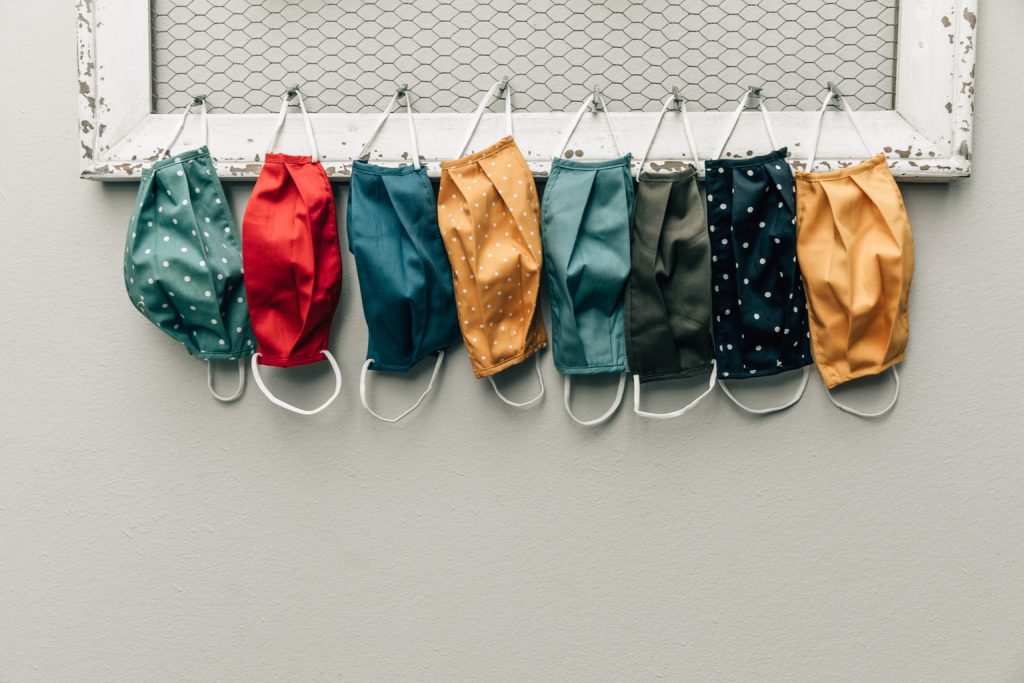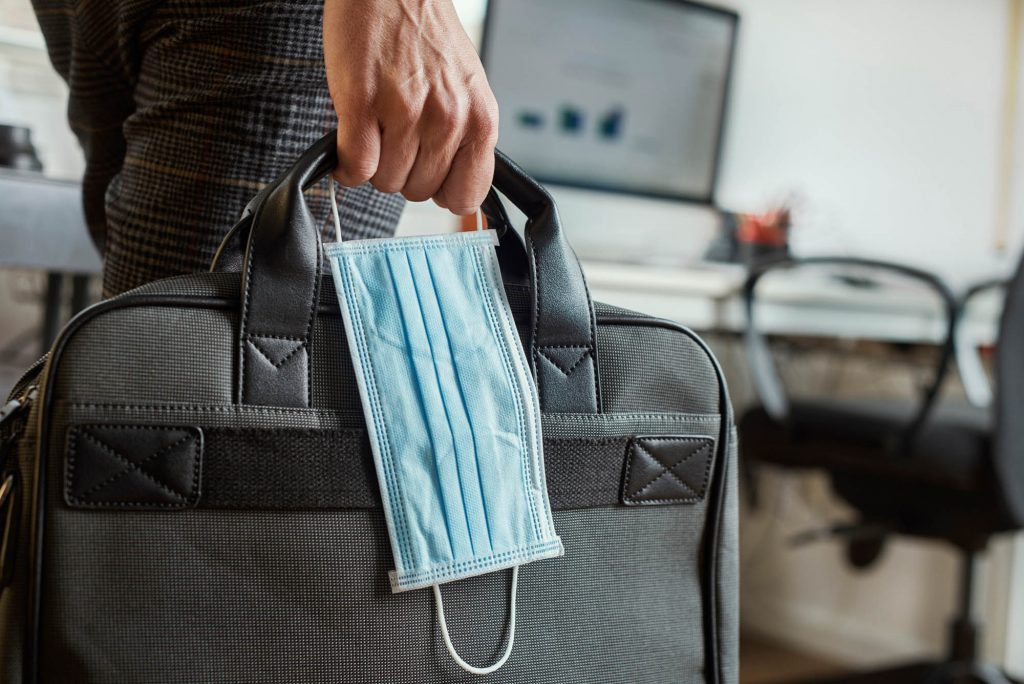 The COVID-19 pandemic has been challenging. However, as many states and cities begin to re-open for business, we are beginning to see some light at the end of the tunnel. While this is good news, it is imperative that employers ensure they are prepared and taking appropriate measures for employees to safely return to work.
With this in mind, PrestigePEO has developed a comprehensive checklist to assist SMBs with this process. There are key details and issues employers need to take into consideration as employees return to the workplace. While this process may differ for each employer, it's never too soon to begin preparations and ensure your office is ready to accommodate a "new normal".
Sample Policies & Guidelines:
PrestigePEO Weekly COVID-19 Webinar Series
The COVID-19 pandemic continues to evolve, and PrestigePEO is here to guide the small business community through each new wave. Our weekly client webinar series focuses on key legislative updates and the most frequently asked questions.  Click on the links below to view our presentations or access the webinar live recordings. Be sure to check back for more information on our next webinar!
COVID-19 Resources
Below is a comprehensive collection of resources and information curated by the PrestigePEO team to help guide your business through the COVID-19 pandemic.
The Paycheck Protection Program (PPP) is an SBA loan designed to provide a direct incentive for small businesses to keep their workers on the payroll. Learn more about the program.
Check out our video to learn more about the Paycheck Protection Program and Loan forgiveness process.  Hear about recently enacted Legislation (Paycheck Protection Program Flexibility Act), new forms, and SBA/Treasury Guidance and issues for employers/borrowers to keep in mind.
We're here to support your business. Feel free to contact PrestigePEO to learn more about how we're helping the small business community manage the unique challenges surrounding COVID-19.
If you're an existing client, we're already working around the clock to ensure proper adherence to all applicable federal, state, and local laws impacting your business – you can reach out to your HR Business Partners at any time for dedicated one-on-one assistance and quick answers to any HR questions you may have.
Be safe and stay well.
Via National Association of Professional Employer Organizations (NAPEO).*