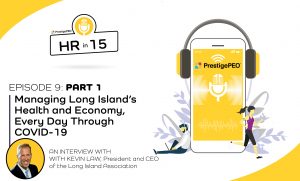 As the early epicenter of COVID-19, Long Island has handled the pandemic "remarkably well," says today's guest, Kevin Law. Now there is fear that current surges in other parts of the country could leak back onto Long Island, if Long Islanders aren't vigilant and careful. People's health, and the survival of many small businesses who depend on monthly revenue, will depend on it.
Thankfully, they're not alone. Law and his team are in the field every day, monitoring health and economic statistics related to COVID-19, and advocating for  ways to help small businesses and people. In this episode, he discusses:
Plans to help small businesses safely reopen and receive assistance to survive this crisis.

How Governor Cuomo's 10 New York State economic regions and their respective "control rooms" have become part of the strategy for pandemic recovery.

COVID-19's disproportionate impact on Long Island's minority communities.

Why facemasks and social distancing are about respecting others' health and helping keep small businesses open.

And much more.
"There is a role for the federal government to play, as well as the state government," says Law, "Their focus should be on these small businesses– anything they can help these small businesses not just to reopen, but to recover."
Have Questions? PrestigePEO is always available to help you navigate these uncertain times with regard to Human Resources, Employee Benefits and Payroll Management. Call Us Today at 888-PEO-PEO1 or contact us at prestigepeo.com
Kevin Law has been President and CEO of the Long Island Association since September 2010. He has been a key strategist and advocate on all matters impacting Long Island and its business community, and he helped secure more than $4 billion in infrastructure investments for the Long Island region. 
The Long Island Association is Long Island's premier business association that advocates for policies, programs, projects that create jobs, spurs investment, improves access to and from New York  City, reduces tax burdens and improves the overall business climate in the Long Island region.