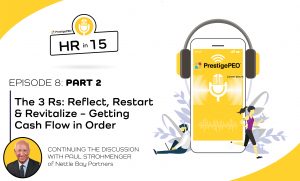 The way we approach the needs of our businesses has undergone a drastic change during the COVID-19 pandemic. As a business owner during the COVID-19 pandemic, the constantly changing environment means taking a deeper dive into spending and where adjustments can be made. 
"Cash flow is king, and that's the place where we need to start." – says Paul Strohmenger when it comes to analyzing how to redirect and maximize your assets.
Listen as PrestigePEO COO, Eric Foodim, continues his discussion with guest Paul Strohmenger, Managing Partner at Nettle Bay Partners on how to navigate your business through today's challenges. 
Examining the profitability of your product lines 

Assessing the collectibility of your customer base and outstanding receivables

Explore which assets your business holds that could easily be converted into cash

Review credit extension opportunities and government loan programs available

How to make the right use of technology to optimize workflow
Have Questions? PrestigePEO is always available to help you navigate these uncertain times with regard to Human Resources, Employee Benefits and Payroll Management. Call Us Today at 888-PEO-PEO1 or contact us prestigepeo.com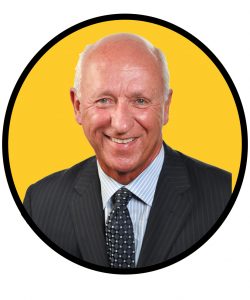 Paul Strohmenger, CPA, is the Managing Partner of Nettle Bay Partners, a company he founded 25 years ago to provide financial management services to companies and organizations of all sizes and in many industries. Nettle Bay Partners acts as a company's outsourced chief financial officer, helping his clients achieve maximized company valuations through improved business processes, organization optimization, financial reporting and analysis, budgeting and planning.