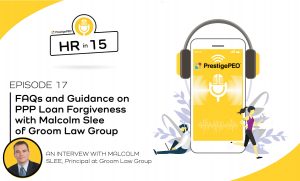 Malcolm Slee, Principal at Groom Law Group, guides businesses through laws on company payroll and finances. He works in Washington D.C. and is an expert on complex financial issues at the intersection of business and government.
On today's show, Malcolm and Eric look at the Paycheck Protection Program's recently updated FAQs and help untangle the web of PPP loan forgiveness. If you are a small business owner navigating, PPP loans this episode will give thorough answers on many of your top questions about the program.
In this Episode, we answer:
What payroll expenses apply to your business's covered period under the PPP?

Can loan payments be delayed? In communication with your lender, how will you know when PPP loan payments are due, or if they have been forgiven?

If you have attempted to re-hire employees since the pandemic began, are you eligible for related PPP loan forgiveness?
"The FAQs are helpful in that they break down the rules for different groups, but it gets complicated in a hurry, so definitely worth taking a closer look." —Malcolm Slee
For further information, visit the US Treasury website here.
Have Questions? Prestige PEO is always available to help you navigate these uncertain times with regard to Human Resources, Employee Benefits and Payroll Management. Call Us Today at 888-PEO-PEO1 or contact us at prestigepeo.com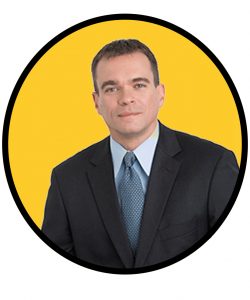 Malcolm Slee is the principal at Groom Law Group advises employers, issuers, plan administrators, associations and plan trustees on a comprehensive range of issues, working with many professional employer organizations (PEOs) to help clients develop strategies for managing their businesses and health care coverage within the constraints of federal health care law.
Groom Law Group solves complicated legal issues for clients in health care, finance, retirement, and the public sector. Groom's exceptional level of service has earned acclaim among clients, consistent top-tier rankings, and its industry's highest awards. With 40 years of experience in Washington, D.C., Groom is recognized among the nation's leading benefits, health, and retirement law firms.