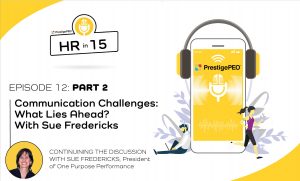 Sue Fredericks, President of One Purpose Performance, is an enlightening and encouraging voice in these times of uncertainty. If you've struggled at all with communication in this uncharted work format – from delivering bad news, to maintaining a positive communication culture – this is the conversation you've been waiting to hear.
Fredericks founded One Purpose Performance in 2000 to help organizations identify what propels their teams and what holds them back, then figure out how to remove barriers, create success, and enhance strengths toward clearly defined goals and outcomes.
In today's episode, we dive into communication methods and processes that will keep your company productive, positive, and cohesive while the question of "returning to work" remains in the air.
Episode highlights:
How do we show confidence when delivering uncertain information?

As an employer, how can you sustain morale and a healthy culture of communication while teams are working from home?

And Fredericks gives an insightful answer to the question:

Are we ready to come back to work?
"In a crisis, the most effective way we can lead is to listen and to meet people where they are." – Sue Fredericks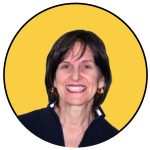 Sue Fredericks has been developing workforce potential in the corporate sector for more than 25 years. She has held leadership roles with Olsten Corporation, Campbell Soup Company, Keebler Foods Company, Friedrich Air Conditioning Company, and National Medical Care. Fredericks founded One Purpose Performance in 2000.
One Purpose Performance, Inc. is a management consulting firm that helps companies and organizations align actions of leaders and staff to work together towards clearly defined goals. Their versatile, full-service practice focuses on developing leadership and maximizing organizational performance.