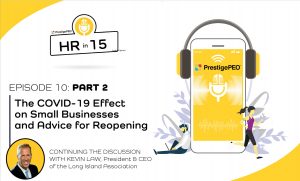 Today we continue our conversation with Kevin Law, Pres. & CEO of the Long Island Assn. Law has been ranked as "one the most powerful non-governmental people in New York State," representing Long Islanders as a member of the private sector. 
But instead of the traditional impression of 'power,' Law conveys respect and care for the people and businesses on Long Island. Law works closely with NY Gov. Andrew Cuomo's Long Island Control Room and the NY Forward Task Force, to help guide the Long Island community through these uncertain times.
Episode highlights include:
The HEROES Act (the upcoming federal stimulus bill) and what will be its most beneficial aspects to individuals and communities.

Potential long term economic benefits for Long Island, as businesses and workers leave the city for the relative security of its more suburban environs.

Considerations for businesses in different phases of reopening, as employers account for the needs of employees, clients, and customers.
Law recommends that New York State business owners go to Forward.NY.gov for an easy-to-use tool kit that helps determine measures needed to safely reopen.
Have Questions? PrestigePEO is always available to help you navigate these uncertain times with regard to Human Resources, Employee Benefits and Payroll Management. Call Us Today at 888-PEO-PEO1 or contact us at prestigepeo.com
Kevin Law has been President and CEO of the Long Island Association since September 2010. He has been a key strategist and advocate on all matters impacting Long Island and its business community, and he helped secure more than $4 billion in infrastructure investments for the Long Island region. 
The Long Island Association is Long Island's premier business association that advocates for policies, programs, projects that create jobs, spurs investment, improves access to and from New York  City, reduces tax burdens and improves the overall business climate in the Long Island region.