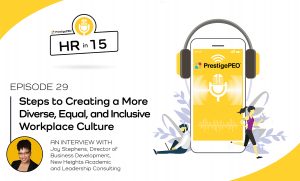 "There is a way to move forward in which everyone can come along for the ride."
Why is it so important for businesses to make a real effort toward offering an inclusive work environment?
In this episode of HR in 15, we're joined once again by Board-Certified career coach and corporate culture consultant, Joy Stephens. Joy's lifelong passion for social and racial justice lends itself to her current mission of helping organizations understand the complex issues of diversity, equity, and inclusion.
Today we're talking about why businesses need to take diversity, equity, and inclusion efforts more seriously, and how. Joy provides expert insight and practical steps businesses can take to foster a work environment that's supportive and inclusive of all.
Highlights include:
Strategic advice on how to build and strengthen inclusion efforts within your company
Important trends in corporate culture and how to get ahead of them
Recommendations on educational media resources
Have Questions? PrestigePEO is always available to help you navigate these uncertain times with regard to Human Resources, Employee Benefits and Payroll Management. Call Us Today at 888-PEO-PEO1 or contact us at prestigepeo.com.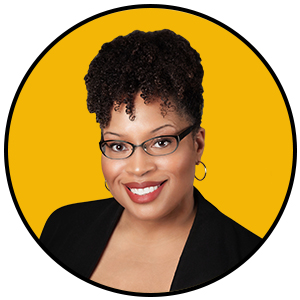 Joy Stephens is the Director of Business Development at New Heights Academic and Leadership Consulting. With a background in research and development, marketing, manufacturing, and sales, Joy now applies her broad corporate experience to help organizations "develop their people" and truly transform their culture. Joy is a Board-Certified career coach and corporate culture consultant who helps organizations move forward.