Every Hero Needs a Sidekick. PrestigePEO is Yours.
Your business is like a superhero: powerful, fast-acting, and saves the day for your clients in need! But even superhumans can't accomplish everything alone. This is where PrestigePEO steps in to help. By partnering with PrestigePEO, you can pair the power of your business with invaluable HR support. Learn more on why we're your sidekick for success!
Your Business and PrestigePEO: An Invincible Combo
PrestigePEO will help alleviate the burdens of HR, payroll, benefits administration, and compliance. By leveraging our expertise, businesses achieve cost savings, enhanced employee satisfaction, and more streamlined operations.
We understand the importance of having a dedicated team of HR professionals to support your business. Our certified experts are committed to providing personalized support tailored to your business's specific needs. We offer strategic guidance to help you navigate complex HR challenges and develop scalable solutions that align with your business goals. With PrestigePEO by your side, you can confidently delegate your day-to-day HR tasks to us and focus on growing your business to new heights.
When you join forces with PrestigePEO, we'll provide:
As a PrestigePEO client, you'll have access to an entire team of certified specialists dedicated to helping you nurture a more supportive, inclusive, and productive work environment. That means you can focus on growing your business while we handle the rest.
Broker Blog
Read and learn more about the PrestigePEO difference
We've developed a blog series that speaks to the value a PEO like Prestige can deliver brokers and their clients. We debunk preconceived notions about a PEO, the way to strengthen your current and future client relationships, keeping you informed about relevant industry topics, and much more. Click the link below to learn more!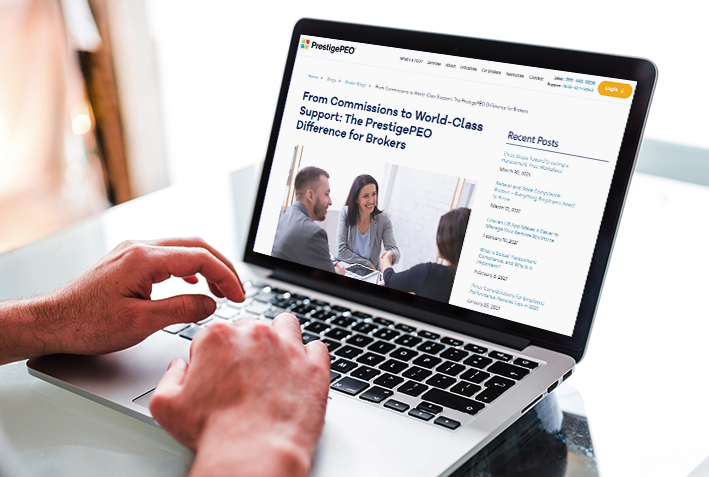 Your Sidekick For Success: Contact PrestigePEO to Learn More!
Reach new heights by harnessing the power of PrestigePEO today. Fill out the form below to learn more about the advantages of a PEO.