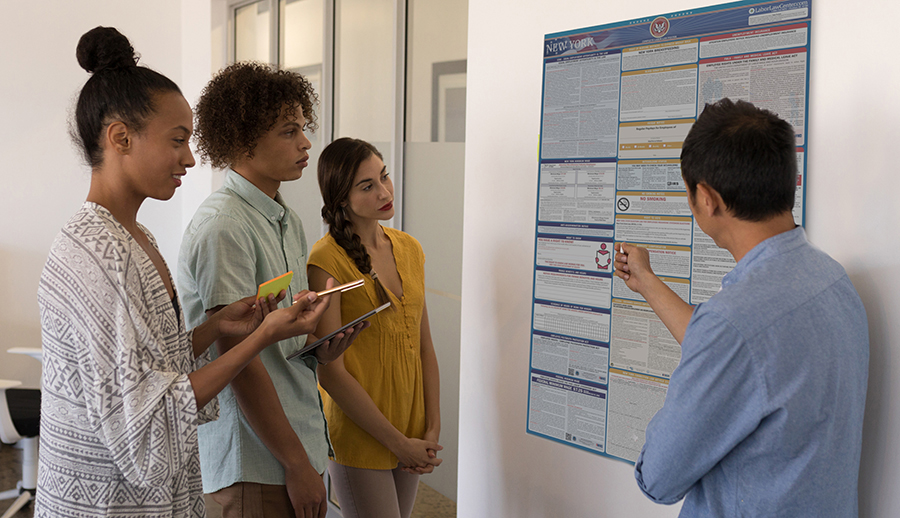 What are labor posters?
Employers with one employee or more are required to post all mandated state and federal labor law posters visible to all. Failure to display the correct state and federal employment law notices may result in penalties, substantial fines, and even lawsuits. Fines and liabilities vary by agency and can range from about $100 to up to $10,000. Check out our labor compliance checklist here to learn more.
What does it mean to be poster-compliant?
Maximum fines may be applied upon repeated offense, so it's important to remain compliant. Compliance includes ensuring all required posters and notices are prominently displayed in a common area of the workplace. These posters are often available in a consolidated format for convenience, as well as digital download for remote employees. Your PrestigePEO specialists can work with you to ensure your employees receive a digital copy, if required.
Do you need labor posters?
In most instances, the short answer is yes. A sole proprietor doesn't have to display any posters, but anyone who pays a wage to even one employee is required by law to display and/or provide a digital copy of all state and federal employment law notifications. Some employers may also be required to display additional county or municipality-specific postings. In New York, for example, employers are required to post unemployment and Statutory Disability information in addition to other state and federal postings. PrestigePEO partners with a premier poster vendor which provides both physical and digital versions of all required labor law posters.
PrestigePEO provides all required posters for up to three locations for each of our clients at no additional cost. And anytime there are changes to – a minimum wage increase in your state, for example – a new poster will automatically be delivered to your office and shared digitally with your employees.
How are postings handled for employees who work remotely?
All employees are provided instructions to access the mandated local, state, and federal labor law postings online anytime through their employee portal. This is especially useful for remote employees, and PrestigePEO ensures they receive timely email communications about any updates and how to access. Employees who work remotely are also emailed downloadable copies of all postings.
Remember!
Update your bulletin boards with new posters as soon as you receive them.
To remain compliant, the most updated posters must always be on display.