The Holiday Juneteenth, also known as Freedom Day, Jubilee Day, Cel-Liberation Day, Second Independence Day, and Emancipation Day, takes place annually on June 19. The holiday is a combination of the words "June" and "nineteenth." June 19th is to commemorate the end of legal slavery in the United States. It honors the day in 1865 that enslaved Black people in Galveston, Texas, finally learned that they were free, two and a half years after the Emancipation Proclamation, which, legally, liberated them.
On January 1, 1863, President Abraham Lincoln signed the Emancipation Proclamation, which declared all enslaved people in the rebellious Confederate states—Alabama, Florida, Georgia, Louisiana, Mississippi, South Carolina, Texas, Arkansas, North Carolina, Tennessee, and Virginia—were free. But Lincoln's executive order did not fully abolish slavery in the U.S., as it did not apply to those held as property in bordering states who were loyal to the Union.
Major General Gordon Granger arrived in Galveston on June 19, 1865, to take control. He informed enslaved people that they were free and that the Civil War was officially over. Therefore, we celebrate Juneteenth because it honors the day all the enslaved were made aware of the Emancipation Proclamation and were officially legally released from their bonds.
Later that same year in December of 1865, the ratification of the 13th amendment formally abolished slavery in the United States.
The Juneteenth Flag – What it looks like and Understanding its Origin
The National Juneteenth Observance Foundation (NJOF), founded in 1994, recognizes the same colors found in the U.S. flag: red, white, and blue, showing that the formerly enslaved were and are Americans. They also created an official flag for the holiday in 1997, which features red and blue striped sections separated by an arc that signifies new horizons and opportunity. In the middle is a large white "star of Texas bursting with new freedom throughout the land," according to the NJOF site.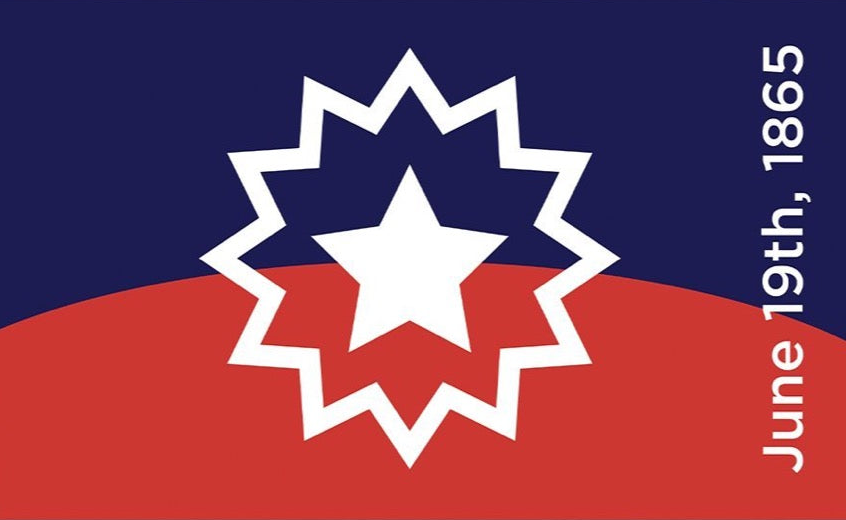 The prominent star both represents Texas as the Lone Star state and symbolizes the freedom of all African Americans in the 50 states. In 2007, the significant date "June 19, 1865" was added to the flag.
Despite these being the formal colors of the holiday, you will also see people honoring Black Independence Day with red, black, and green. These are the colors of the Pan-African flag, which was created in 1920. This flag honors people of the African diaspora and symbolizes Black liberation and freedom.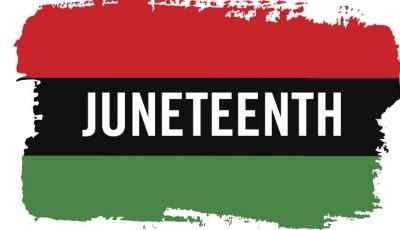 Why should we celebrate Juneteenth in the workplace?
Recognizing Juneteenth can be part of a company's broader DEI program and serve to strengthen its commitment to its values. Juneteenth is not only a celebration of freedom, but also one of opportunity, equity, and access.
In June of 2021, Congress passed legislation to establish Juneteenth National Independence Day as a U.S. federal holiday, and every state but South Dakota recognizes it as a state or ceremonial holiday.
While employers are not required to honor any federal holiday by giving employees a paid day off, employers strive to attract and retain talent, especially in today's tight job market. Some have offered a paid company holiday for all employees; others offer an extra floating holiday to use on Juneteenth or another day, an event to celebrate Juneteenth with Black ERG groups, or learning sessions for all staff.
In a recent U.S. workforce survey, just 41% of American workers knew about Juneteenth prior to 2020. The racial reckoning of 2020 pushed that percentage to 71% as of May 2021. For Black Americans, the shift was from 67% to 93%.
Companies can approach Juneteenth in a way that significantly enhances their diversity, equity, and inclusion work. This is an opportunity to amplify understanding of the unique experience of Black Americans and serve as a catalyst for conversations about intersectionality.
Corporations like Target, Nike, Twitter, the NFL, and Hearst Magazines (which publishes Oprah Daily and O Quarterly) have declared June 19th a company holiday. If Juneteenth falls on a Sunday, the following Monday will be an observed legal holiday; if it falls on a Saturday, the preceding Friday will be an observed legal holiday.
Ways to honor and commemorate Juneteenth in the workplace
While acknowledging Juneteenth as a paid company holiday is certainly a step in the right direction, there are more significant actions that can be taken. Here are some ways to honor the holiday in the workplace:
Engage your employees.
Juneteenth can be an opportunity to engage employees from all areas of the organization. Employers may want to use Juneteenth activities to get greater buy-in from leadership on DEI initiatives and demonstrate that these initiatives and programs are not only for underrepresented employees. Many employees may wonder where they fit in these programs. Employers may consider providing resources to those who want to be allies or otherwise demonstrate support, but do not know how. Consider organizing volunteer outings during the week of Juneteenth that provide opportunities for all employees to get involved.
If you are just understanding the importance of Juneteenth, take it as an opportunity to be vulnerable and share what you have learned. Then go a step further by inviting conversation with your teams. You might be surprised how much employees engage, either relieved they are not the only ones who had not previously recognized the holiday or are eager to share the knowledge they do have.
Educate your team members.
To make Juneteenth and other cultural holidays meaningful in the workplace, the DEI committee at PrestigePEO challenges organizations and employees to utilize this time to advance their knowledge and deepen their awareness. While the significance of Juneteenth is now a national topic of conversation, many employees may not be aware of the history or importance of Juneteenth. Consider utilizing guest speakers, written communications, or roundtable discussions to educate employees on the holiday.
For those organizations that have Black employee affinity groups, observance of Juneteenth could serve as a further opportunity to demonstrate support for the group and its members by having deeper and more authentic education around the significance of the holiday, why it exists, and lived experiences around it.
Companies might suggest or sponsor visits to one of the more than 160 Black/African American museums, sites, and cultural centers across the nation, distribute critical texts that detail the United States' legacy of systemic racism and oppression or encourage participation in local Juneteenth celebrations and patronage of Black-owned businesses in your cities and communities.
Examine your internal policies.
As companies decide how to recognize the holiday going forward, they may take the opportunity to examine their own internal DEI initiatives. Companies may want to periodically examine their DEI programs to ensure they are accomplishing their goals. Employers may want to shift DEI programs into a proactive focus.
The recognition of Juneteenth as a company holiday can go a long way to demonstrate awareness and support for employees' varied experiences, particularly those of Black employees. However, companies should also recognize that observing Juneteenth does not substitute for conducting ongoing evaluations of hiring, promotion, evaluation, training, compensation, and other systems and processes that DEI initiatives are intended to address. Recognizing Juneteenth is not where the DEI efforts begin or end.
Celebrate the freedom of Juneteenth.
Juneteenth is a liberation celebration! It is intended as a day to celebrate fuller freedom and independence. Companies may consider how Juneteenth can be celebrated similarly to the Fourth of July holiday in its recognition of freedom and/or to the observation of Dr. Martin Luther King, Jr.'s birthday in its commitment to community engagement.
Joining one of the many local celebrations and seeing if your company can help sponsor a Juneteenth celebration may further enshrine this newest public holiday as an opportunity for all in the workplace to learn, celebrate, and engage. It is an opportunity to exult in Black lives, Black history, and Black culture.
The shift from passive to an active commemoration of Juneteenth and other cultural holidays signals purpose and relevance rather than hollow recognition.
But most importantly, remember that all those things should not just happen on Juneteenth, but every day.
Celebrate our differences and intersectionality in the workplace.
When you highlight the holidays of one group, others can feel left out. Resist the urge to downplay the experience of one group because others have experienced different injustices. Instead, encourage using the power of empathy to acknowledge what this marginalized group – enslaved Black Americans – went through, what their liberation meant for the country, and what that kind of progress means for us all.
There is room for everyone at the table, and when we advocate for change, it inherently creates a more inclusive environment for all. At the same time, we should recognize that people have multiple identities, not just based on race and gender, but also on sexual orientation, disability and even backgrounds and interests, such as being a veteran, immigrant, artist, or fitness enthusiast.
For example, June is also Pride month in the U.S. which is the celebration of the LGBTQIA+ community. Any DEI event should celebrate the fact that we all bring many different perspectives to our workplaces. Be thoughtful about celebrating Juneteenth (or Pride, or any other day relevant to a non-majority group) in a way that allows people to still feel like they can be their authentic and complex selves.
We hope this guide to celebrating Juneteenth serves as a helpful resource to business leaders. Because many employees can become frustrated by one-off or "token" DEI celebrations, we want business owners to create thoughtful and meaningful celebrations. We further encourage companies and teams to follow this advice year-round, not just on certain days. The work of DEI never stops, but the more we recognize holidays like Juneteenth as unifying opportunities, the further we can travel on this necessary journey.