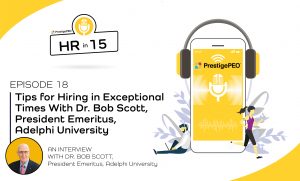 Today we are joined by Dr. Bob Scott, President Emeritus of Adelphi University. Dr. Scott's decorated career in higher education has included 10 years at Cornell University, 6 years with the Indiana Commission for Higher education, 15 years as President of Ramapo College, and 15 years as President of Adelphi University.   
Dr. Scott shares his knowledge on how the pandemic has affected higher education, recent graduates entering the job market, and the companies hiring them.  His experience is invaluable, as he brings the perspective of a professional who's been a part of higher education's evolution since the 1970s.  
Listen to learn more about:  
Lessons from the pandemic's impact on institutions – and the resiliency of those who had the proper infrastructure in place.  

What has changed for businesses hiring recent college graduates, and what's changed for those grads who are now navigating the job market.  

What has been the impact of small colleges who have had to close their doors due to the pandemic.   
"In a sense, this is a wonderful opportunity to change the way we evaluate potential candidates for employment, because students … have had to really figure out how they're going to be problem solvers."  —Dr. Bob Scott   
Have Questions? PrestigePEO is always available to help you navigate these uncertain times with regard to Human Resources, Employee Benefits and Payroll Management. Call Us Today at 888-PEO-PEO1 or contact us at prestigepeo.com 

Dr. Bob Scott is President Emeritus of Adelphi University. He served as Adelphi's ninth president from 2000-2015. He was President of Ramapo College from 1985-2000 and held several prior positions in higher education. Many of the institutions he has led continue to honor his legacy.   
Adelphi University has been a leading higher education institution for over 150 years, at its home campus in Garden City on Long Island, and at other locations throughout the New York City area.