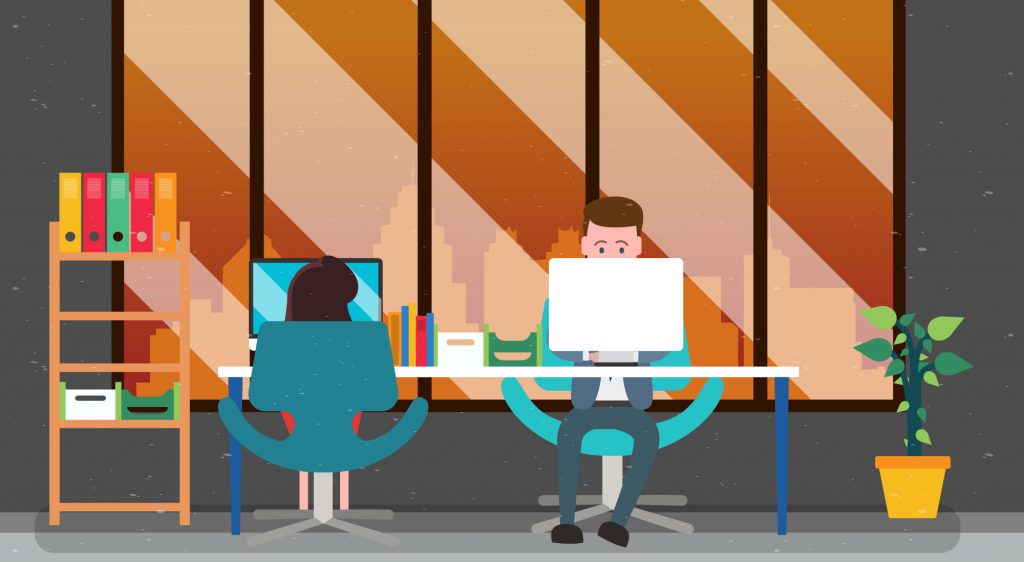 COVID-19 changed how the world works. With no real end to the pandemic yet in sight, businesses must adapt to a new normal in order to survive and thrive beyond it. While this isn't the simplest undertaking, especially for businesses with operations that are difficult to perform remotely, it isn't impossible. In fact, for many businesses, success will depend on the ability to remain productive while adjusting to new regulations and realities as the situation evolves. Here are some best practices for SMBs to effectively manage a workforce during and after COVID-19.
Maintain Remote Work Wherever Possible
In corporate environments, most roles can be performed remotely with little to no interruption in productivity. In fact, an annual study conducted by FlexJobs found that 65% of employees are more productive in their home offices than at a traditional workplace. The technology to allow for real-time connectivity and collaboration already exists, and many teams around the world are becoming more geographically diverse as demand for skilled talent increases.
Amid public health concerns, remote work is a no brainer. Businesses that don't take measures to implement as much remote work as possible risk spreading illness in the workplace, which could give rise to a whole set of costly legal and liability issues. It also unnecessarily endangers your top asset – your employees.
In such an unprecedented situation, it's up to employers to put the health, safety, and well-being of their employees above all else. Wherever possible, employers should shift employees to remote work until there is a widely available solution to COVID-19. According to protections under the Americans with Disabilities Act (ADA), employers are also required to make special accommodations, within reason, for disabled employees or anyone at high-risk of infection.
Split and Staggered Scheduling
For some employees, time away from the physical workplace may be impossible. IT technicians, medical staff, and package specialists are a few examples of the kinds of roles that require in-person contact. Businesses with employees that must be in the workplace should try to minimize building occupancy rates and maximize social distancing efforts as much as possible.
One way to accomplish this is to establish split and staggered schedules. Start by splitting your employees into distinct groups; then, assign varied schedules for each group, with only one group coming into the workplace at a time. Onsite groups can vary day by day, week by week, or by even longer intervals of time depending on business needs.
Another approach is to ask employees about their own preferences, enabling those who are willing to return to the workplace to do so, while allowing those who feel more comfortable working from home to continue with their virtual arrangements.
Implement Required Social Distancing Measures
When your business is ready to welcome employees back, be sure to follow all applicable local, state, and federal social distancing guidelines. Your PEO partner can help you figure out which regulations apply to your business. General guidelines include, but are not limited to the following:
Ensure at least six feet of distance between each employee's desk or workspace
Practice split and staggered scheduling to minimize overall office and room occupancy rates
Ensure foot traffic follows a single direction through aisles and hallways
Apply signage directing all traffic flow as needed
Limit in-person group meetings
Practice Required Health and Safety Measures
In addition to new social distancing rules, employers must consider all applicable health and safety requirements. As a best practice, SMBs should follow all guidelines from the CDC and local health officials to ensure the wellbeing of their employees. This includes, but is not limited to the following:
Screen employees for COVID-19 symptoms daily
Perform body temperature checks on each employee upon entrance into the workplace
Ensure hand sanitizer, cleaning supplies, and face masks are readily available for employees
Require all employees to wear masks in any common areas; including conference rooms, meeting spaces, bathrooms, kitchens, and lounge areas
Frequently sanitize high-contact touchpoints such as door handles, faucets, office equipment, and appliances
While the changes are extensive, the overall goal is to protect your business and your employees. These guidelines are the first steps toward ensuring that your workplace is compliant and safe for all.
For more resources to help your business manage a workforce during COVID-19, visit our COVID-19 Resource Center – access webinars, recommended guidelines, sample communications, and more to help move your business forward.