What is Asian American and Pacific Islander (AAPI) Heritage Month?
During the month of May, we recognize Asian and Pacific American heritage. AAPI month was first commemorated in 1979 as a week and later expanded to the full month in 1992. Asian and Pacific American is a broad term that refers to the entirety of the Asian continent, the pacific islands of Melanesia, Micronesia, and Polynesia. AAPI Heritage Month acknowledges the unique experiences of all AAPI immigrants and citizens in in America, as well as various AAPI traditions and cultures. However, The Federal Asian Pacific American Council (FAPAC) has given AAPI Heritage Month 2022 the theme of "Advancing Leaders Through Collaboration". Thus, local, and national governments are encouraged to train AAPI people in leadership roles to prioritize collaboration, and develop through diversity and inclusion.
Why is it Important to Acknowledge AAPI Heritage Month?
It is crucial that we acknowledge and celebrate AAPI Heritage Month to honor the journeys of AAPI immigrants, the sacrifices made in the transition, and the accomplishments that AAPI people have achieved. Many facets of American culture and society have been developed by AAPI perspectives, including science and medicine, literature and art, sports, government development, and politics. For example, Kamala Harris made history as the first Asian American Vice President of the United States in 2021. Meanwhile, American pop culture has bloomed with the visibility of AAPI stories, traditions, and people. The 2019 Academy Award winning Parasite was awarded Best Picture, opening a wide dialogue on the understandings of class struggles. Director Bong Joon Ho's interpretation and portrayal of such concepts, funneled through multiple cultural perspectives, had created eye-opening conversations within the US. Another blockbuster from AAPI creatives is Shang-Chi and the Legend of the Ten Rings. In 2021, this movie took the Marvel franchise by storm, debuting the cinematic universe's first Asian superhero. The introduction of an Asian hero within a widely AAPI cast not only allows Asian youth to feel represented, but also feel connected to Asian role models that can speak to AAPI experiences and cultural understandings.
Discrimination of Asian American and Islander Pacifiers Still Persists – What can we do to Help Change That?
Although AAPI people make significant contributions to the diverse culture in our country, which we celebrate during AAPI Heritage month, it is also important to acknowledge the AAPI population's long history within the United States and the issues they still grapple with today. Despite what AAPI people have accomplished for American society, many still face the stereotype of being "perpetual foreigners," the notion that Asian Americans and Pacific Islanders are inherently othered within American spaces. Members of the AAPI community also report experiencing negative sentiment due to current events such as the COVID-19 pandemic. It is our responsibility to celebrate, uplift, and listen to AAPI voices throughout May and onwards in order to understand AAPI history and encourage development into the future. The United States is celebrated as the great melting pot, so it is important to recognize the many cultures that make up our population.
PrestigePEO is proud to have a diverse and inclusive team, and we are excited to celebrate our Asian American and Pacific Islander team members. One of the ways we are celebrating AAPI Heritage Month is by spotlighting two of our proud AAPI team members. Check out their perspectives on how their cultures enhance their work-life experiences:
Why do you think diversity is important to your day-to-day work life?
"My culture contributes to my career in a lot of ways. From my work ethic to my understanding of work-life balance, being Filipino means working hard while holding tight onto those strong family values." – Mark Pera, Senior Graphic Designer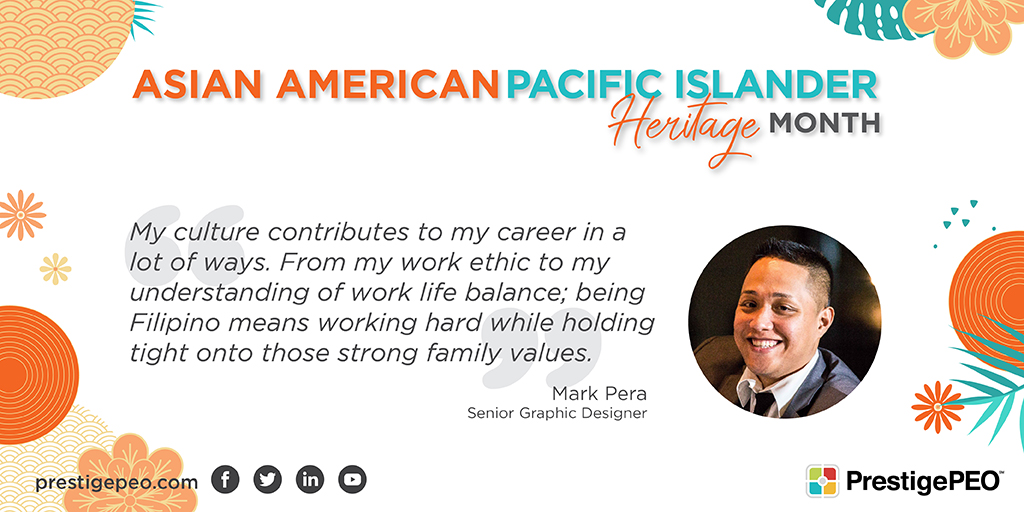 "My Chinese-Maltese heritage has taught me that sharing or mixing cultures is key to growth and innovation. So, having a diverse team means having different cultural perspectives weighing in on your work. Valuing the differences in my team's background is what ties us all together and makes working at PrestigePEO exciting and rewarding." – Elyzia Zhang, Marketing Specialist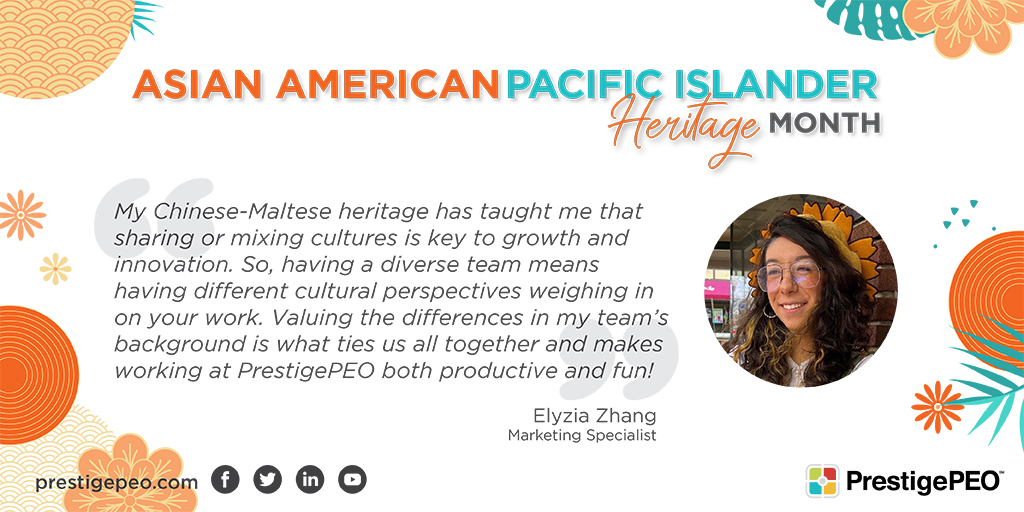 How You Can Be More Inclusive Towards AAPI Team Members, Employees, and Colleagues?
To create an inclusive and understanding workplace environment that fosters collaboration across different perspectives, businesses need to include AAPI cultures within their DEI strategy. Create workplace solutions that are tailored to the experiences and struggles that AAPI people face in terms of inequity. Be ready to listen, engage, and learn from AAPI resources, articles, and texts. Understanding the experiences and issues that AAPI team members are facing today will help business leaders understand what changes to implement to make their business a safe space for AAPI employees.
Remember that the AAPI community is widespread and extremely diverse. The umbrella term "Asian" covers "South Asian", "East Asian", and more. There is no one commonly lived experience for AAPI people, and it is important that business leaders have resources that will help parse out different experiences from the Asian perspective. For example, breaking "Asian" down into subcategories of Asian culture such as "Pacific Islander" within job applications or surveys can help business leaders understand the diversity within their own workforce, as well as cater to any specific needs.
Lastly, make space for AAPI people within your business' community. Stay on the pulse of employee affinity groups and listen to their opinions about how your organization can improve and what is already being done well. If your business hosts events, invite AAPI speakers to feature and offer their insights. Engage with AAPI employees to survey their experience with your business and listen openly to the experiences they are willing to share. Be sure to remain transparent as you engage with AAPI employees about their experiences, as their perspectives will help build inclusive initiatives and structures within workspaces.
Feel free to utilize the tips and resources we have provided in your own workplace. At PrestigePEO, our DEI Committee is constantly striving toward innovative solutions, and we encourage other businesses, clients, and partners to do the same.  If you have any further questions, please feel free to contact us.