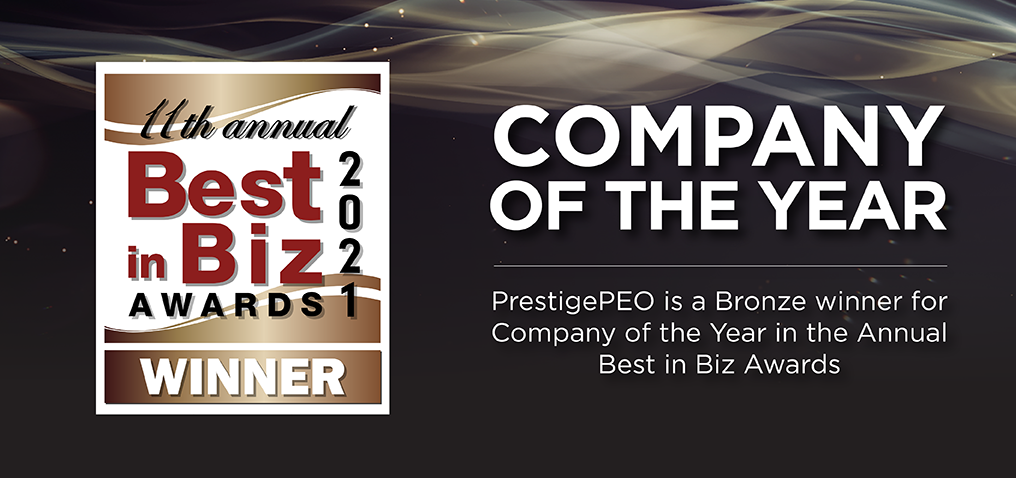 Company Earns Bronze Award in Company of the Year category
Melville, NY – PrestigePEO, one of the nation's largest professional employer organizations (PEO), has been named a bronze winner in the Company of the Year category in the Best in Biz Awards; the only independent business awards program judged each year by prominent editors and reporters from top-tier publications in North America.
This award recognizes the support PrestigePEO provides small and medium-sized businesses (SMBs), particularly during COVID-19, when companies seek critical one-on-one guidance across myriad administrative and HR-related areas. PrestigePEO provides regular compliance alerts, both state and federal, and gives guidance and advice to clients on a one-to-one basis on how to handle specific pandemic-related questions. PrestigePEO is known for its capabilities in supporting SMBs across many areas, including, but not limited to, compliance and risk management, HR guidance, and employee benefits. Its expertise and commitment were acknowledged with this award win.
"We are honored to earn a Best in Biz Company award. This reflects the collective efforts and dedication of our employees. Every PrestigePEO employee goes above and beyond to continue serving our clients during these unprecedented times. It is a great indicator of our devotion to our SMB clients and for that, I am extremely proud," said Andrew Lubash, PrestigePEO founder and chief executive officer.
Since the program's inception in 2011, winners in Best in Biz Awards have been determined based on scoring from independent judging panels assembled each year from some of the most respected national and local newspapers, TV and radio outlets, and business, consumer, technology, and trade publications in North America. The Best in Biz Awards judging panels are uniquely able to determine the best of the best from among the hundreds of competitive entries.
About Best in Biz Awards
Since 2011, Best in Biz Awards has been the only independent business awards program judged by a who's who of prominent reporters and editors from top-tier publications from North America and around the world. Over the years, judges in this prestigious awards program have ranged from Associated Press to the Wall Street Journal and winners have spanned the spectrum, from blue-chip companies that form the bedrock of the global economy to some of the world's most innovative start-ups and nimble local companies. Each year, Best in Biz Awards honors are conferred in two separate programs: North America and International, and in 100 categories, including company, team, executive, product, and CSR, media, PR, and other categories. For more information, visit http://www.bestinbizawards.com.
About PrestigePEO
Melville, N.Y.-based PrestigePEO, also known as Prestige Employee Administrators LLC, provides integrated, end-to-end human resources (HR) solutions to small and medium-sized businesses (SMBs) for managing all integral human resources operations. This includes support for employee benefits management, payroll administration, workers' compliance, and HR guidance, among others. PrestigePEO's full spectrum of HR services and solutions helps SMBs lower employee benefit costs, reduce administrative workloads, and manage critical HR functions.
PrestigePEO is among only 1% of PEOs accredited by the Employer Services Assurance Corporation (ESAC), certified (CI) through Workers Comp Risk Management and classified as a Certified Professional Employer Organization (CPEO) by the IRS – demonstrating financial stability and strict adherence with a diverse range of regulatory and security standards.
To learn more, visit www.prestigepeo.com and follow PrestigePEO on Facebook, Twitter, LinkedIn and YouTube.