Open Enrollment season is here! As a PrestigePEO broker partner, we are excited to announce a brand-new way for clients to make their contribution selections this year. The Prestige Benefits Renewal portal is an efficient way for your clients to review their current contributions and build models to make the best choices for next year. We encourage you to work closely with them in navigating the portal and we look forward to a successful Open Enrollment season!
Broker Instructions for the Prestige Benefits Renewal Portal
You will receive an email from PrestigePEO Broker Benefit Portal – no-reply@auth.prestigepeo.com
Within that email, you will see an activate button.
Click the Activate Portal Account button.
You will be brought to a new screen.
On that screen, use your Prestige-given email address as your username and create a new password.

If you do not receive the email notification to log-in or have trouble creating a new password to access the portal, please contact your dedicated Benefits Specialist.

Once you land on the welcome page, you will see a blue welcome banner at the top of the page.
On this welcome page, you will see a list of all your clients.
Next to each client's name is their renewal status which captures the journey from start to finish.

"Not Started": They have not begun to make any models. At least one model will be required to progress forward.
"In Progress": Designates that you or your client has begun to create a model.
"Submitted": Designates that your client has sent a contribution model to Prestige for review.
"Published": The final phase and designates that model is final and no further changes can be accepted by the system. Plans are able to be accessed as "view only".
We encourage you to reference the Benefits Renewal Portal Guide that has been created for Client Managers. You can access a PDF or video version of the guide posted below.
Tips for Using the Portal
Our goal is to deliver the best experience possible for you and your client. While we are excited to launch all-new exclusive technology, there may be some unplanned nuances. Here are some tips to enhance your experience this season:
Currently, only one user (broker or client) can make changes at a time. This is to prevent a model override. If you plan to assist your client with their contribution strategy, we suggest that you set up a screen share to view the system in tandem.
Currently, models are not able to be downloaded. This has been identified as an enhancement for future seasons.
If you and your client choose to not make any changes for this coming year, a contribution model will still need to be created to proceed through the renewal process as mentioned in #8 above.
To replicate the 2021-2022 contribution strategy, you or your client will create a new model, save it, and review the contribution amounts in blue text. You can build the same model as the current contribution by matching the amount on the right side of your screen and entering each number into the Monthly Contributions section. You will need to do this for each class and plan listed. System notifications will prompt you or your client when all boxes have been selected or if something is missing.
2022 Open Enrollment Season Benefits Renewal Portal Guide
The PrestigePEO Benefits Renewal Portal was built within PrestigePRO and is an easy-to-use selection system for clients to choose their contributions for the 2022–2023 year.  Within this portal, you and your client can build comparison models based on different contributions and learn comprehensive information on each plan to pick the best one for their business. It will also contain detailed rate information and cost breakdowns for each of the employee benefits plans offered by their company. *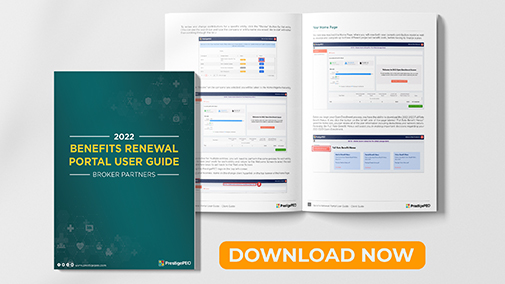 These side-by-side instructions were created for your client to easily navigate the portal. This user-friendly platform was built to create different comparison models for this year. We hope that you can use this guide in partnership with your client to make the right decisions for their business.
*Please note that we can only provide an estimate as the final cost will depend on individual employee elections, such as dependent status and coverage options.
PrestigePEO Webinar Series
Introducing a newly customized Benefits Renewal Portal
Another Open Enrollment season is upon us, and we are thrilled to announce the brand-new Benefits Renewal Portal. We have transformed the renewal process for our clients and brokers. This technology will allow for efficient employee benefit planning for the coming year!
The debut of the Prestige Benefits Renewal Portal was just Phase 1 of the system. Our goal is to make this Portal as efficient and streamlined as possible for both our Brokers and Client Managers alike. We welcome all feedback after you have had a chance to explore, navigate and complete the Open Enrollment process this year with your client. Please email oefeedback@prestigepeo.com  with all your suggestions.